Sweater weather sagas
My taste in movies is more mellow than most people's. I like action and adventure movies if they have relatable characters and enticing plots, but I would never watch a horror movie. That's what makes the holidays perfect for me — I can enjoy a full selection of seasonal classics that suits my taste. Holiday movies, known for their family-centered, humorous and heartwarming themes, bring people together in a way that few other movies can. So sit back, grab a cup of hot chocolate, and enjoy some of my favorites!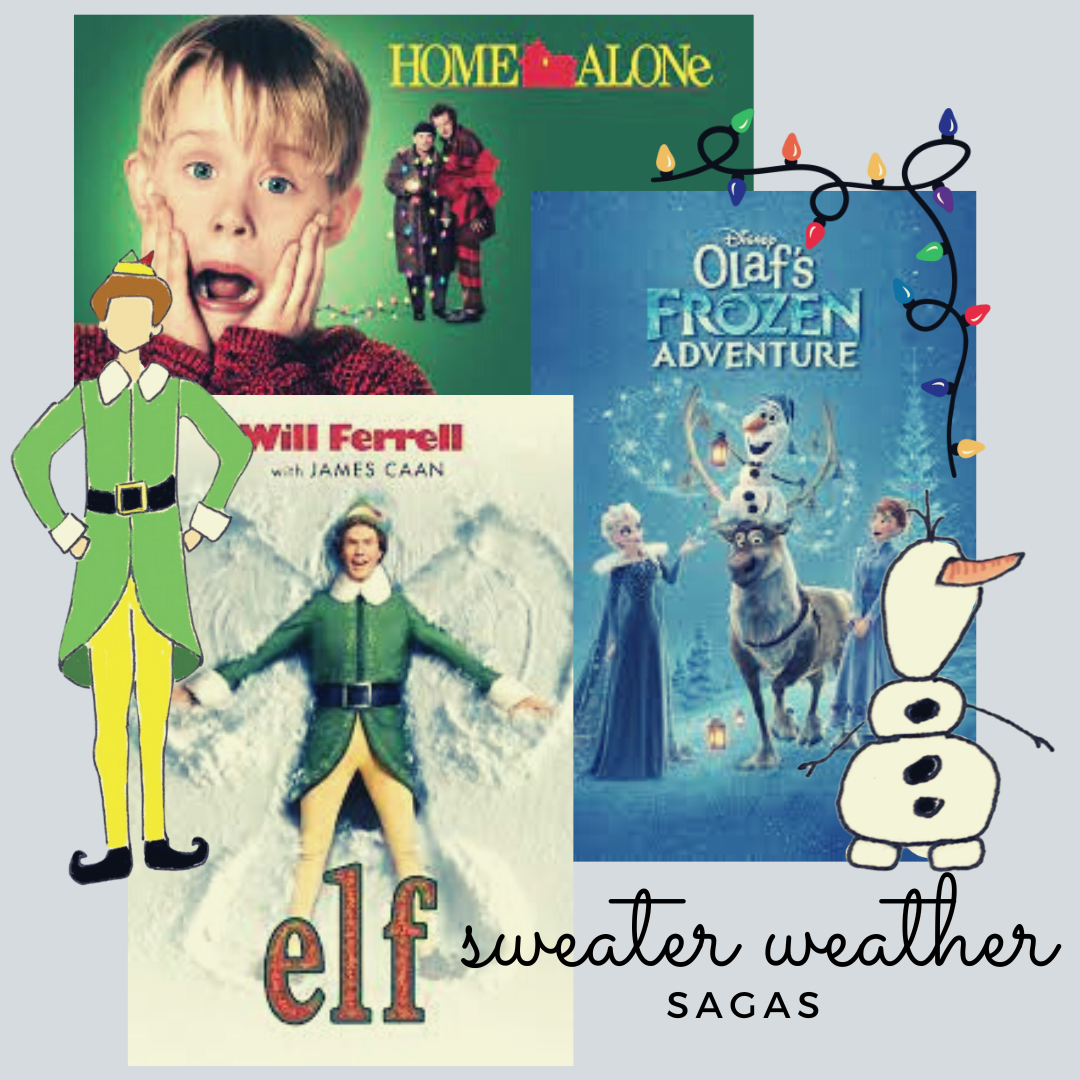 "Home Alone"
"Home Alone" chronicles the story of Kevin, a young boy who gets left behind for Christmas when his family embarks on a vacation in a frenzy. While at home, Kevin eats junk food, fights off robbers and comes to realize that perhaps being alone is not as fun as he originally thought. 
I remember the first time I watched "Home Alone" with my cousins. The absurdity of Kevin's methods to foil his enemies, like the time he uses the audio from a TV show to scare away robbers, made us laugh the entire way through. The creativity and courage Kevin employs made it impossible for me not to root for him. 
Now as a high schooler, I have a slightly different view of "Home Alone." Although the movie still makes me laugh, I am now better able to appreciate the themes woven expertly into the narrative. I particularly love the transformation Kevin undergoes — starting off desperate to be free of his annoying family, only to later realize how important family really is. In the end, I admire how Kevin feels pride in the family that he belongs to and believes it is his duty to defend his house, even at such a young age. As someone going to college next year, I'll be living Kevin's dream by being free of my own family. But, like Kevin learns during the movie, family will still remain a large part of who I am. 
"Elf"
"Elf" is a Christmas classic, depicting the story of Buddy, an abnormally large elf who sets off on a journey from his home in the North Pole to find his father in the bustling city of New York. Buddy's lack of social propriety is the main point of humor throughout the movie, and his cheerful but clueless character makes the movie so alluring to me. 
The epitome of a holiday movie is a heartwarming depiction of family. "Elf" does precisely this, celebrating not just biological family, but also found family. Just like Buddy, I find myself at home with both my biological family and other families I have — my friends at school, my friends at church and people from other groups I feel supported by. "Elf" highlights that being part of a family, whether related by blood or not, is a gift that everyone should cherish. 
"Olaf's Frozen Adventure"
Hilarious and action-packed, Disney's short film "Olaf's Frozen Adventure" follows the popular "Frozen" sidekick Olaf as he ventures outside the safety of the castle into the village and nearby wilderness in search of Christmas traditions for Anna and Elsa. 
When I first watched the film, I was impressed by its high production value, including voice acting by the original "Frozen" cast and new musical numbers. The best part of this film is by far its focus on Olaf, whose goofy, carefree and gullible nature kept me laughing the entire twenty minutes. While the film celebrates the diverse range of traditions families honor year after year, I applaud it for acknowledging the fact that not all families have the ability to make traditions of their own. For example, families that must stay separated or children who were orphaned at a young age often do not have the privilege to make holiday memories year after year. Suffice to say, sitting back and watching "Olaf's Frozen Adventure" each year has become one of my family's Christmas traditions.