Leveling up with newcomers
New varsity girls basketball players discuss season goals, challenges
The gym is filled with an exciting, sweaty atmosphere. Varsity girls basketball players are clapping for one another as they have just finished practicing free throws before the big game. High fives and pats on the back are common as each player makes her way to the back of the line. A feeling of excitement surrounds everyone as go-time is near. 
With this being her first year on the varsity team, point and shooting guard Yumi Jeon said she enjoys representing HHS at games due to the friendships she has built with her fellow teammates. 
Though Jeon appreciates playing the sport, she said it has tested her perseverance during challenging instances.
"If you have a bad game mentally, it's sometimes harder to gain your confidence back," Jeon, a junior, said. "There is also the endurance aspect of it. You're running up and down the court at all times, so having energy for that is sometimes exhausting."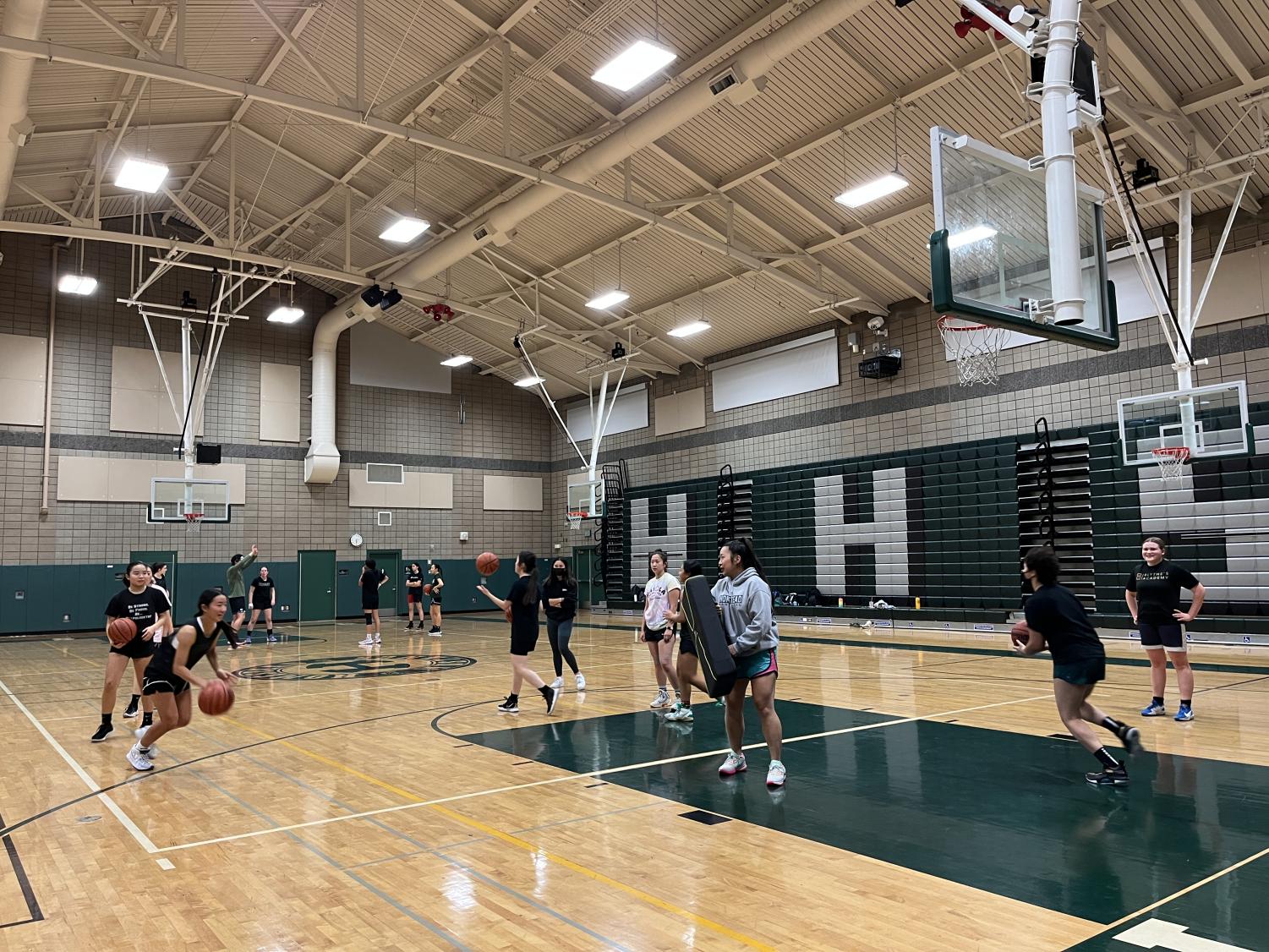 Point guard, sophomore Danica Lim said her short height has helped her succeed in her playing position. It is beneficial for point guards to be short since it helps them control the ball and lead plays, according to Active SG. 
"I'm able to control the ball well and am good at instructing people [where to throw or pass] so it's an advantage for me to see everything," Lim said. "If I wasn't playing [with the height I have] it would probably be a disadvantage because I would get a lot of blocks."
Inspired by her father who played basketball, Lim said she was eager to join the basketball team so she could collaborate with a range of players while representing her school. Since players in her current position are typically short,  Lim said she wants to try new playing positions in the future, not just based on her height.
"I would like to improve and step out of my comfort zone," Lim said. "I don't know if it's going to work but [I want to] just try it out, because I feel like I was always limited to a certain position because of my height. "
Regarding the overall team dynamic, Jeon said there is currently a split among the team members between new and returning players since many junior varsity players were newly added to the varsity team. To overcome this, she said she hopes to bond as a group which will inevitably improve their playing abilities. 
Similarly to Jeon, shooting guard, senior Ashlynne Larkin said she looks forward to establishing new connections with her teammates and adjusting to a new playing environment. 
"I like getting to know the girls better, because right now, there's not a lot of chemistry," Larkin said. "I'm excited to build up [my skill] because there are girls that I haven't played with before."