Disneylands take over campus
Classes unite during spirit week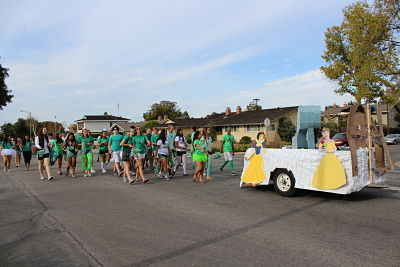 The "Happiest Homecoming on Earth" recently surfaced on campus, under the overarching theme of "Disneylands." Seniors represented the famous Fantasyland, juniors crossed into Adventureland, sophomores into Tomorrowland and freshmen faced Frontierland.
According to the online Homecoming flyer, Homecoming is an exciting week of friendly class competition involving cheer-offs, activities and decorations. The week ends with an exciting Friday consisting of the rally, parade and football games.
"With all these activities planned out for the student body, there were a variety of things for students to do to keep them engaged," ASB social manager Azuki Umeda said.
Lunchtime activities, fun games included limbo, musical chairs and games that pertained to each respective class's theme, according to flyers posted around campus.
"I played ASB's game limbo and it was okay," junior Juliette Wong said. "It was fun yet embarrassing because you know that your whole class is watching you and that your friends would take pictures of you." Wong said.
The games themselves were planned and executed by the leadership team, members of ASB said. However, with the events leading up to Homecoming, leadership students did more than just plan games.
Junior class secretary Elaine Nguyen said that she spent about ten hours per week planning Homecoming and that it was stressful.
"I think it's because as a junior you have so much more schoolwork and extracurriculars to deal with at the same time," Nguyen said. "Setting up the quad and float was especially stressful."
Despite the difficulties, Nguyen said that Homecoming was fun and that she enjoyed her time there.
"It was fun seeing the whole school dress up and taking pictures with my friends," Wong said. "I also thought the cheer-offs were fun because it was mainly the juniors against the seniors."
The week was concluded with a football game against Santa Clara high school, where it was announced that the seniors had won the Homecoming competition between the classes.
According to ASB, points were given to each class based on each class's spirit at the cheer-offs and the last class to successfully complete the lunchtime activities. For brunch cheer-offs and lunchtime activities, the loudest and most successful class was awarded 200 points. However, the float, decorations and video each placed a greater weight on the total amount of points each class was awarded. For the best in each category, 2000 points were awarded for that class.
Wong said that despite a loss at the game it was really fun to hangout with friends.
"I definitely enjoyed Homecoming a lot this year," Nguyen said. "Seeing all the work that went into planning definitely made it more fun and worth it."