Meet the senior field hockey players of HHS
Senior year, for most high school students, is bittersweet, as we make the final transition into adulthood. But for high school athletes, it also means the end of a four-year high school sports career.
Meet four of HHS's senior field hockey girls, who played their final season this fall – and get to know them both on and off the field.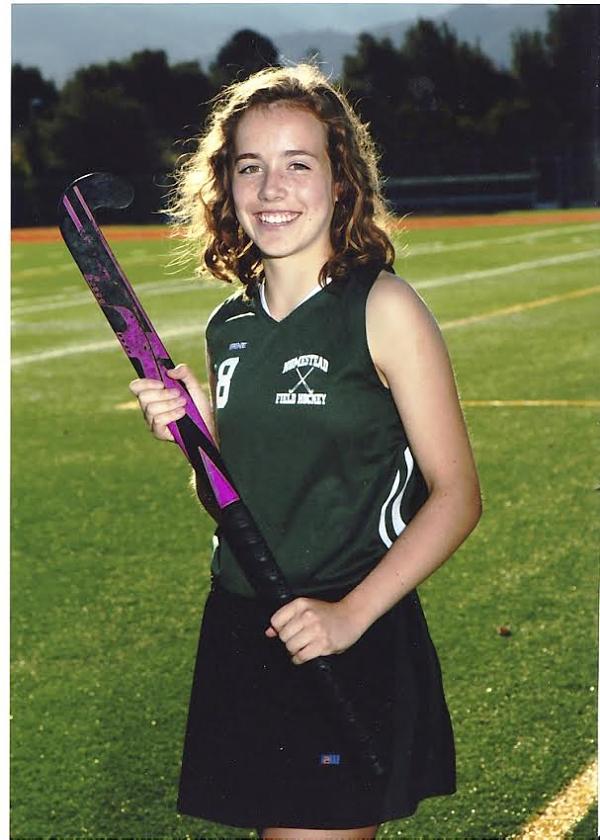 Allison Auten
Apart from her love of field hockey, senior Allison Auten's other interests include art and music.
"I've been drawing pretty much since I can remember, mostly portraits because I like people's expressions," Auten said. "I also really enjoy photography, pretty much any type."
Auten said she enjoys listening to music and has played a large variety of instruments, including the piano, trombone, saxophone, guitar and drums. Auten said one of her proudest moments was getting her black belt in karate after four hard years of training.
"I tested for [the black belt] in seventh grade and it was really rewarding to see how all that time and effort paid off," Auten said.
As her fourth and last season of field hockey ends, and she looks back on her four years, Auten said being involved in the sport has given her great memories and even better friendships.
"Career-wise, I want to study psychology in college and then become a school psychologist or student advocate at a high school," Auten said.
As for field hockey, Auten said there is no doubt she will continue playing in college and afterwards.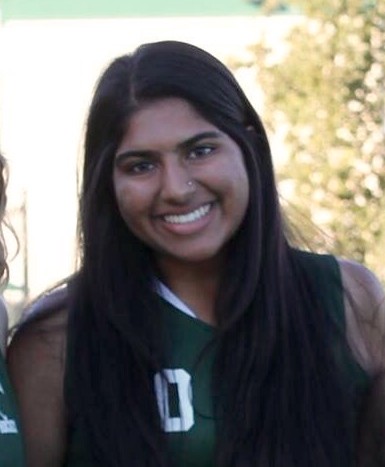 Mehvish Ali
Mehvish Ali, a four-year field hockey player, said she enjoys being around friends and having a good time.
She grew up with the sport because her dad is a field hockey coach. However, it was not until she was in fifth grade that she started developing a strong passion for the sport. Since then, she has fallen in love with field hockey and said it is also her favorite pastime.
"Field hockey has made me a team player and overall I learned some really great leadership skills," Ali said.
One of her proudest moments, she said, was when she moved up to the varsity team her sophomore year.
Ali said she remembers training all summer long after her freshman year in hopes of making varsity, and seeing that it ultimately paid off has pushed her to always work hard.
Apart from field hockey, Ali said she works as a kid's birthday party host at "Safari Run" and always loves to meet new people.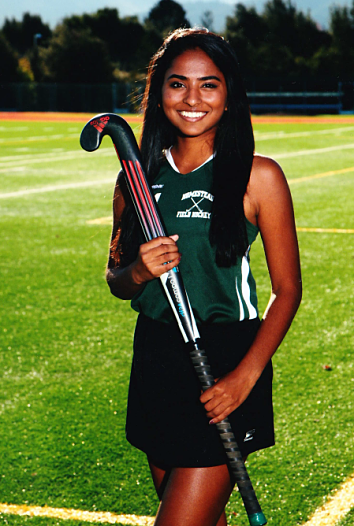 Pranathi Tipparam (Pree)
Pranathi Tipparam, better known as Pree, has been playing field hockey for five years.
Her field hockey journey began in eighth grade when her friend, an ice hockey fanatic, convinced her to try out for the local field hockey club, San Jose Fly.
Tipparam said she loves how field hockey is a big team sport and that no matter what, she will always have a group of girls to support her on and off the field. She said the sport has positively impacted her life in all aspects.
"Field hockey has made me a better person in a lot of ways and provided me with a lot of opportunities," Tipparam said.
Tipparam said in addition to playing field hockey, she enjoys art, design and loves to cook during her free time.
After high school, Tipparam hopes to major in business and continue playing field hockey throughout college.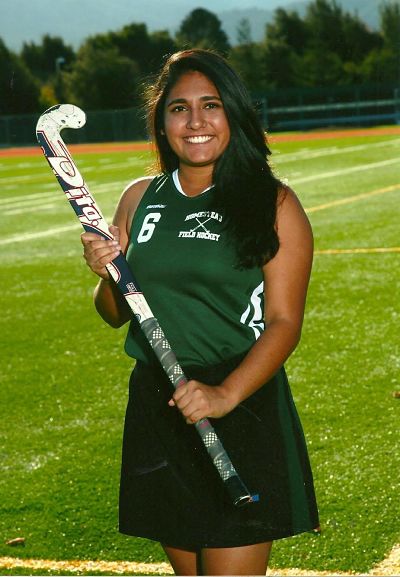 Sonya Nadkeshwar
Multi-sport athlete Sonya Nadkeshwar has participated in field hockey and basketball and said she enjoys playing the guitar during her free time. She also likes to dance, build objects and knows all the lines in the movie "A Cinderella Story."
Nadkeshwar first started playing field hockey in ninth grade, after deciding it would be fun to learn something new. She said she loves the fact that field hockey requires the entire team to be successful.
"In order to score a goal or defend one, you need to use every single player on the team," Naskeshwar said.
Looking back, Nadkeshwar said field hockey has impacted her by allowing her to make new friends and learning how to work with others.
"The friends I made in field hockey are ones that will stay in my life for a long time," Nadkeshwar said.
In the future, she hopes to attend university and become a mechanical engineer.