Editorial: Transparent elections are a must
Democratic values outweigh candidates' feelings
When students cast their ballots for next year's representatives, they play a major role in deciding how the school will be run.
The same concern has comes up every year and is never been addressed by administration: why aren't the election results displayed?

Yes, the winners are announced through a sheet of paper hung on the ASB office door. But by what margins did they win? How many total votes were cast? How many people really voted for unopposed candidates?
All of these questions deserved to be answered on that same paper.
Unlike homecoming court, any student can choose to run for class office and ASB positions, with the exception of president and vice president (these positions require a year of experience).
The homecoming king and queen victory margin is irrelevant because it is an honor to be nominated, but voters deserve to know the election results for the next school leaders.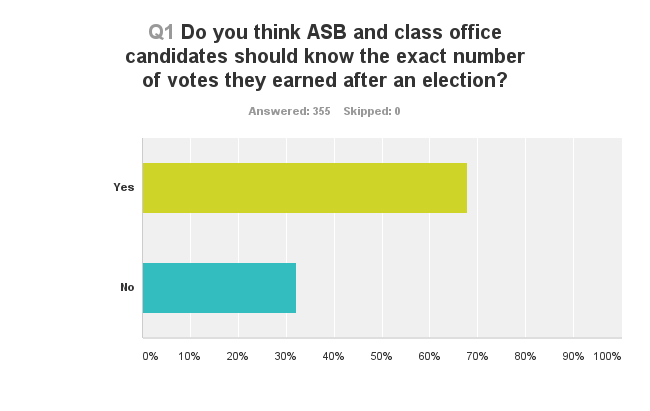 By making a conscious decision to compete for a leadership position, these students are accepting the burden of campaigning for themselves and the possibility that they will be defeated.
The school inadequately prepares students for the real world when they decline disclosing election results due to concern for candidates' feelings rather than allowing a transparent voting procedure.
Students running for office must be prepared to lead the school if they win and respect the student body's choice if they lose. If potential candidates are not prepared to handle the outcomes of transparent elections, they should not run in the first place.
It's not just the class officers who deserve to know how many votes they earned. The student body deserves to know the margins of victory or defeat of their candidates.
The Epitaph conducted a school-wide survey in which almost 68 percent of students voiced their opinion to see the numerical election outcomes.
The Epitaph chooses to disclose the exact results from all surveys conducted as proof of fairness and equal opportunity.
People have accused the student elections of being rigged, or the administration of tipping the scale. While The Epitaph cannot verify these claims, providing transparent election results would reassure the student body.
Implementing such transparency would be simple, thanks to the digital voting software used for elections. A simple "file, print" should do the trick.
For the sake of our school's democratic values and for the promotion of student-administration cooperation, the Editorial Board respectfully request the voting percentage results of each ASB candidate and class officer candidate.