Football Player also Rugby Player | Sione Moli
Senior tackling the future
More stories from David Coe
S
enior football player Sione Moli is an All-Star athlete in the sport of Rugby. Moli is from the Tanga Islands of Papua New Guinea and attended Los Altos High School before transferring to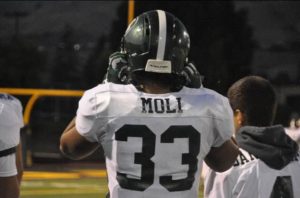 HHS during his sophomore year. When Moli transferred he said he was fascinated by the unique vibe HHS portrayed.
"Looking at other schools and how juiced they are at rallies, I just want to make it roaring as possible and get everyone jumping" Moli said.
Outside of playing football for the school, Moli also plays rugby, a sport that involves tackling on the field without padding.
"I've been playing rugby for the past seven years, and I've been very influenced in the sport by my family in the past," Moli said.
Moli plays for an All-Star team and a club team. He said his All-Star team has competed at an elite level for the past 3 years. Moli has been team captain for two years in a row, All-Star MVP, championship tournament VP, club team MVP and All Star team MVP.
"The biggest reason I got involved in football is through rugby and they are basically the same sport. My grandfather played for the national team for Tanga. My dad followed his steps and then I followed my dad's steps," Moli said.
The HHS football team has an inner team called the "Goon Squad," a group of teammates that push each other on and off the field, Moli said.
"Goon Squad is a brotherhood, a squad of family, a gang that would go out in the field and go out to war with each other. The same type of attitude was brought back this year and coach Milo truly believes we are the goon squad again," Moil said.
Moli said both sports have changed him immensely. In the future, Moli said he plans to pursue both sports after high school.
"Sports right now have impacted my life in terms of attitude and how I carry myself in  different situations and how I react in terms of negativity and hardships," Moli said. "In college, you know, if I can play both sports that would be dope, but I'll take whatever I can and what is best for my situation."
Leave a Comment