Developing: HHS campus on lockdown during lunch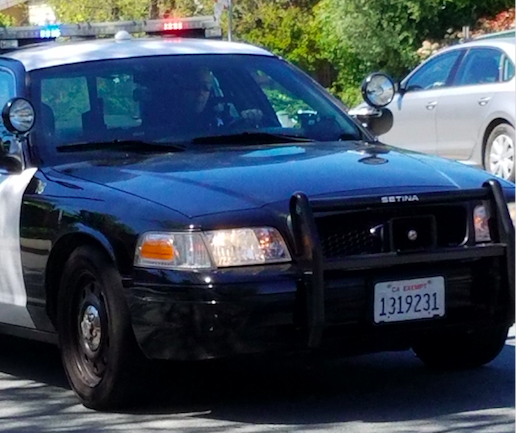 The HHS campus went on lockdown toward the end of lunch after a loudspeaker announcement said, "this is a lockdown."
An alleged case of domestic violence took place behind the 7-11 store nearby, and a man was arrested by the House of Bagels. When police discovered a weapon at the scene, they ordered the nearby HHS to go on lockdown.
One official said one man was in custody, and police are searching for potential others. Reports say the suspect resisted arrest, but is in custody.
Several students fled campus after the initial lockdown announcement while others built barriers in classrooms. The lockdown was called off before the start of 7th period, and students were told to return to class.
No shots fired or injuries reported.
4:10 p.m. Update: Principal Greg Giglio sent an email to all students and parents. It read the following:
Dear Parents and Students —
I just wanted to give you a summary of today's incident and to thank the students for their quick and appropriate reactions to the situation.  During lunch we were notified by law enforcement that an incident happened next to 7-11.  We were immediately directed to initiate our lockdown procedures.  Even though it was the middle of lunch, students quickly and safely evacuated either off campus or barricaded into classrooms.  After about 30 minutes, law enforcement called off the lockdown because they had arrested the suspect.
Our focus during a situation like today's is to internally manage the situation and let police and district office personnel send out communications as necessary.  I would also like to thank our staff for their quick reactions in helping to keep students safe.  Our staff will be available for students who might need some extra assistance.
If you have any questions or concerns, please share them with a staff member or administrator.  Thank you and we appreciate your help and concern.
Greg Giglio, Principal
2:45 p.m. Update: Principal Greg Giglio makes loudspeaker announcement saying campus is safe and students may return to class.
2:25 p.m. Update: District superintendent Polly Bove calls parents saying suspect is in custody. Students still on campus are being directed to go to sixth period. Students off campus are being told to return to school.
2:19 p.m. Update: Police have given the all clear. Student will return to 6th period at 2:15.
2:19 p.m. Update: The Sheriff's Department has advised Homestead High School to go on lockdown due to an incident in the community adjacent to the school. This directive occurred during lunch; students that were on campus remain on site and safe in classrooms. Students who were off campus are being directed by the Sheriff's Office to return home via Mary Avenue towards Fremont Avenue in order to keep them safe and away from the location of the incident near 7-11 on Homestead Road. Please do not attempt to come to Homestead or pick up your student at this time.We will be updating you as we receive additional information. Again all students who were on campus are safely in classrooms and those who were still off campus have been sent home by the sheriff.
2:16 p.m. Update: Code red over. Students are advised to return home via Mary Ave.
2:12 p.m. Update: The district called parents informing parents of the incident. The district asks parents not to attempt to pick up their students. Students who were off campus are advised not to return to campus.
Corrections: a previous version of this article said that an alleged armed robbery took place at the 7-11 store. Police recieved a call about an alleged case of domestic violence that took place behind the 7-11 store. 
Updated April 4, at 10:43 a.m.: A previous version of this article incorrectly used when in place of went.