Fate decided, it's horrible
"The Fate of the Furious" is the second worst in the franchise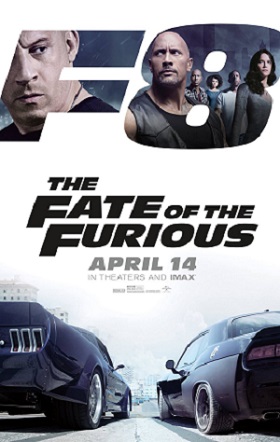 Muscle cars, sexy women and exotic locations is not a movie.
"The Fate of the Furious" is the newest film in the "Fast and Furious" franchise. The film, unlike its predecessors, fails to entertain the audience.
The film is the first film to not star Paul Walker,the series hero Brian O'Conner who died midway through filming "Furious 7" in a fatal car accident in November 2013.
The film brings back the majority of the former cast from the previous movie such as Vin Diesel, Dwayne Johnson, Michelle Rodriguez, Tyrese Gibson, Chris "Ludacris" Bridges, Nathalie Emmanuel, Kurt Russell and Jason Statham. In addition, the film also stars Charlize Theron and Kristofer Hivju as the films main villains.
In the "Fate of the Furious," Vin Diesel's character, Dominic Toretto is blackmailed into betraying his team.
The movie, however, falls short of expectations.
One of its major flaws is the film itself. The "Fast and Furious" franchise should have ended with Paul Walker's character's retirement.
The "Fast and Furious" franchise cannot happen without Brian O'Conner.
The film's plot is very convoluted. One moment, the crew is enjoying retirement around the world, then they're in the middle of nowhere.
There is also no character development. The film gives no context as to why the villain is motivated to end the world or why the former villains are motivated to suddenly do some good.
The film is arguably the worst installment since "The Fast and the Furious: Tokyo Drift."
One redeeming factor of this film is the action scenes and first-person view of the car chases.
Overall, the latest installment in the "Fast and Furious" franchise does not live up to its predecessors and fails to establish itself as a film without its main character.