Insight to this year's color guard season
The team does more than people think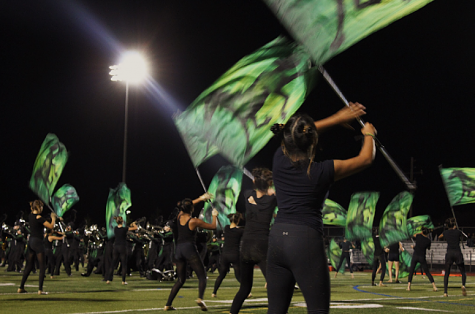 The color guard season started off with their first performance on Sept. 8 during the football team's first home game. The team kicked off the season well during their first performance at the Mustang Stadium, showing what the new freshman have in store for upcoming performances.
This season will be filled with routines and 'fairytale-like' performances that match to the overall band and color guard seasons theme. Perfection is always strived for, and color guard members work toward personal goals to make a "golden show"or a perfect performance from an individual.
In order for members to have a "golden show", they repeat the routine with 'reps', or repetitions to clean up mistakes they have made during run-throughs. Reps also give the coaches a visual of how the team's performance and dynamic functions in a change is needed.
During routines the team focuses on three main skills: dance, flag and weapon. The dancing in colorguard focuses mainly on footwork and being able to do swift arm movements. The flag is second and is mainly performed with by freshmen as it is considered a basic skill. Weapons consist of rifles and sabers. In order for members to be able to do this skill, they must try out for it.
Color guard's performing season starts after their expo, which is an event in Oct. where different schools perform colorguard routines The performance theme this year ise 'fairytale', "so the tempo of the music will be more upbeat and at a faster pace" Snell said. Each captain said that the team adds more to the performance each week to improve the routine.
As for competition season, color guard does not have many current performances. The main chunk of their competition season is after football is done and carries through to the winter guard season in Jan. to April.
During this year's competition season the colorguard team will be making an appearance at the Rose Parade alongside marching band. The Rose Parade will happen on Jan. 1 in Pasadena, CA.
Although it is such a big event, most of the team will be used to the level of performance. "I'm nervous for the parade, but I'm not scared of messing up," junior Aya Snell said, who is also captain of the  team.When it comes to halftime games Snell feels more pressured because she knows people she talks to will watch it, and she wants to give them a good performance.  
Since there are more people, routines are changed around to fit the new numbers. Snell believes the team will be able to hold up to those standards that were set before them even with these new changes.  
Along with moving forward, the other captains on the team Honoka Kishino (junior) and Rena Okamoto (senior), believe it will be easier to improve because the freshmen motivate the rest of the team with their excitement. With that, you will see more excitement in way the students perform during each show.