On-campus construction update
The A building is expected to go through some changes for future classes of HHS
With the construction of the Innovation Hub underway, other parts of the HHS campus will soon be under renovation as well.
The A Building houses the main office, ASB, leadership, the College and Career Center and numerous other student resources on the first floor. The A Building also houses a few math classes on its upper level, but most classes are electives,  such as computer science, business and administration of justice on the second story.
According to the Annual Financial Report and Performance Audit given by the Citizens' Oversight Committee of FUHSD, there is some utility work that needs to be done. Additionally, there will also be new offices built elsewhere on campus, facilities director Dolph Placencia said.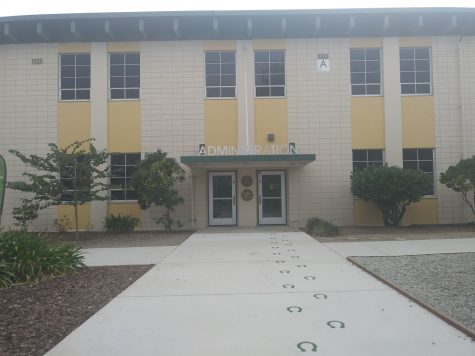 The remodeling will be covered by the same Measure K Bond that will cover the costs of the Innovation Hub and other changes to campus.
The remodeling is included in the FUHSD effort to improve their school's condition and add an additional 51 classrooms to accommodate the growing number of students in the FUHSD, according to the district's website.
Approximately $9 million out of the allotted $50 million will be used to remodel the A building, according to the FUHSD website.
Some of the remodeling done in the A building will be on the offices in the first floor.  There are plans to turn the offices into classrooms, Principal Greg Giglio said.
According to the FUHSD website, the offices are to be temporarily placed in another part of the campus until construction is finished. There is no official start date for the remodeling but it is expected to finish around 2021, Placencia said.