The Hart of the Matter: The Boyfriend Loophole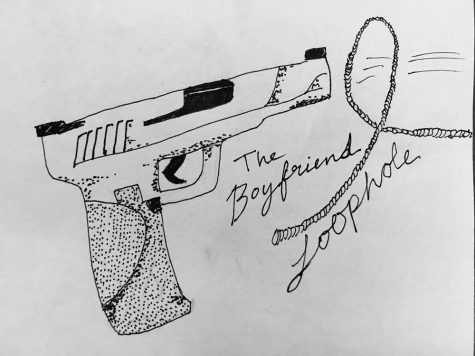 With a mass shooting occurring almost every day in America, it's not a reach to say that gun control in this country is a hole-ridden disaster. One such pitfall has been coined the "Boyfriend Loophole," a defect that has managed to increase the already paramount danger that comes with being a woman in the U.S.
The "Boyfriend Loophole" regards the fact that Congress defines domestic abuse in terms of marriage, cohabitation, or having children. This excludes boyfriends, leaving a gap for men to more easily abuse women without penalty from the law. This loophole has been around for roughly 20 years, dating back to 1996, when Congress decided to limit access to guns for those who have committed acts of domestic abuse.
This makes sense, considering that the presence of a gun in a domestic dispute increases the chance of homicide by 500 percent, according to the National Coalition Against Domestic Violence.
When Congress tried to take action on these issues, there was concern that innocent people's gun rights would be taken away under false claims of domestic abuse. The definition of domestic violence was shifted to focus on couples that have married, lived together or had children.
Thus, the "Boyfriend Loophole" was created. Congress's definition forwent the fact that domestic abusers really have no regard for their marital or living situation when they begin beating their partner.
Not to mention, the law still allows known abusers to keep the weapons they already have and does nothing to prevent abusers from skipping background checks by purchasing guns from private sellers.
The giant holes in the 1996 law render it almost completely useless. The issue of domestic abusers having access to guns is still rampant today.
In a study from 2009-2014 by Everytown, a nonprofit organization which focuses on issues of gun control, it was found that 54 percent of mass shootings were committed by domestic abusers. For instance, in the case of the 2016 shooting at Pulse nightclub, shooter Omar Mateen had a history of beating his wife.
Not only is fixing the law important to protect victims of domestic violence, it also may slow the daily increase of mass shootings in the United States.
The themes of domestic abuse and mass shootings are eerily connected, and the law in place as a means to thwart this connection is a dated, flimsy piece of legislation with gaping holes. These holes must be fixed through new, solid lawmaking. It is already dangerous enough to be a woman in America, and the government has a duty to limit this peril.