Model UN's biggest event of the year
HHS MUN attends Stanford conference
The HHS Model United Nations (MUN) club attended a conference at Stanford University for the first time. This conference lasted a total of three days, from Nov. 10-12. 16 MUN members attended.
The Stanford Model UN Conference (SMUNC) is one of the largest conferences that HHS MUN has attended, MUN President Mary Wang said.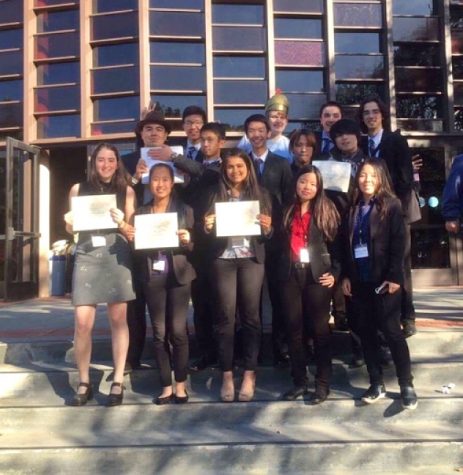 Some of the major differences between collegiate conferences like this one and local high school MUN conferences are the size and amount of people involved.
Since this conference was large, a variety of people were involved.  Besides the HHS MUN club, there were people who came in from both out-of-state and out-of-country.  
The importance and size of this conference led to considerable amounts of preparation for MUN. "Sign-ups for the conference closed at the end of the previous school year," Mary Wang said and the club has been preparing ever since.
To prepare for large conferences like these, workshops are held in order to help students improve their public speaking, researching and debate skills, Director of Internal Affairs Michael Wang said.
About a month before the conference, "each [student] gets a country or person that and then they will represent that country or person in a specific committee," Mary Wang said.
Next, students are given time to research, pick a position and write a position paper based on the research which they then brought to the conference, Mary Wang said.
It is difficult to compare Stanford to past conferences because every conference varies, Wang said. New topics are given at every conference and the size of each committee differs greatly.  
Overall, the conference was a great learning experience, Michael Wang said, but there were both pros and cons involved.  
HHS MUN had a limited amount of people that could be brought to the conference.  A maximum of 20 people were able to be brought to Stanford, which meant limited learning opportunities for students, Mary Wang said.
The experience that was gained at this conference was memorable because it was so different from past conferences, Mary Wang said.   
"About half of the people that went won awards … and I'd say that a lot of people really liked [the conference]," Vice President Kary Wang said.
The award winners are junior Nathaniel Wright, junior Aarya Gupta, junior Thomas Dudley, sophomore Noa Bronicki, senior Ryan Wu and sophomore Naomi Ho.