The Impatient Patient: Why TV shows catered to children have the responsibility of representation
Is television the glue of American society? Perhaps, seeing as we devote five hours daily to a screen, according to the New York Times. For children between the ages eight to 18, a eerily similar figure of 4.5 is cited.
When kids and teenagers devote such a significant chunk of time to television, the question that needs to be answered is: how are these shows influencing them? While television has been linked to positive learning (for example, shows like "Dora the Explorer" or "Sesame Street"), studies have connected types of television programs watched that may present suggestive themes to violent behavior in kids to reckless sexual behavior and subpar academic performance, according to the National Library of Medicine.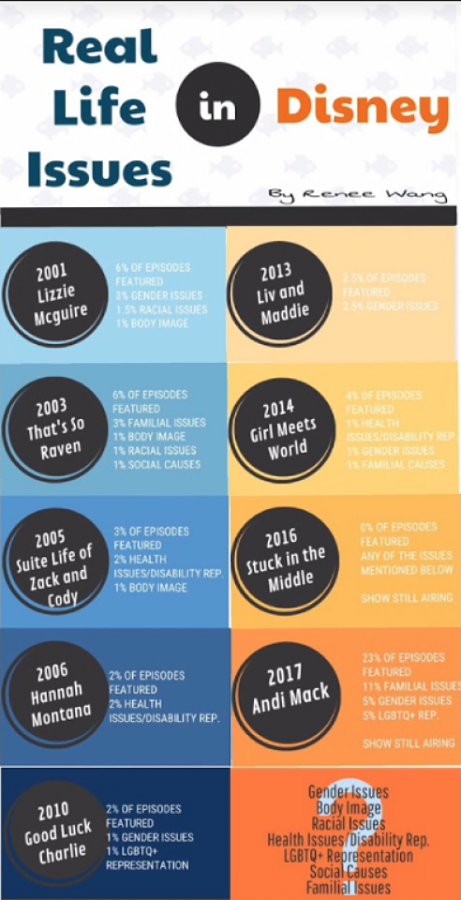 While most TV shows for children do not contain such mature themes, the fact of the matter is that what children watch on television transcends just a few minutes of screen time.
Most kids' TV shows follow a specific formula of a perfect nuclear family and a leading character who gets into wacky situations, living in a utopia where real issues cease to exist. While the intention of this formula is to produce 20 minutes of light-hearted slapstick for kids to look forward to, TV producers have an influence that is not always used as wisely as it should be.
As such, I found it appropriate to analyze the programs I watched growing up on Disney Channel, where the bulk of my treasured shows aired. Disney Channel also happens to be one of the top rated networks in the nine to 14 age group, according to Nielsen co., a market research firm.
My findings represented a downward trend for the most part, in that shows from 2001 on featured episodes concerning racial, gender and societal issues in their episodes than their later counterparts. Still-airing TV show Andi Mack, is an exception, having the highest percentage of issues featured, with episodes dealing with familial, gender and LGBTQ+ issues.
Shows after 2003 failed to produce episodes highlighting racial issues, which is irresponsible, at best. The characters in shows may live in a world where discrimination is not prevalent, but some of the children watching are forced to confront hateful incidences much earlier. By producing television shows stuck in a bubble, it inadvertently causes the children watching to be stuck in a limited worldview.
To exclude issues of race only reiterates that it is and has been a growing issue in America. Racial tensions may not be the easiest topic to talk about, but progress cannot be made if it is suppressed. Including ongoing and often difficult issues does not subtract from the lighthearted air of kids TV shows, nor does it decrease the learning value intended.
To argue that ignorance is bliss is irresponsible — racism, sexism and discrimination are all themes anyone is bound to experience, and as mentioned above, for some this is experienced earlier than most. For shows with tremendous influence and a wide audience, effectively presenting such issues in an appropriate and positive way can teach kids watching life lessons that will segway into making them better equipped in life.
If a culture of acceptance and understanding is instilled in children from a young age, I can only wonder how many more issues could be easily resolved, from encounters in real life to contentious political issues today.
In particular, "That's So Raven," produced in 2003, showcased an episode in which the titular character Raven does not get a parttime job because of her race — the employer explicitly states that she does not hire black people. Such a plotline may be absent in children's programming today, but discrimination is still a very real issue.
In an episode of "Lizzie McGuire", the characters learning to empathize with an immigrant from a different country despite initial mockery of his English. With the immigration bans and anti-immigration rhetoric being thrown out today, I cannot think of a more appropriate lesson to teach kids. Children's shows featuring people of color simply cannot understate or ignore such issues. There should not be a disconnect between what a young person experiences in real life and the TV shows they watch at night.
That being said, Disney Channel's shows do feature an upward trend in LGBT representation, with a character on "Andi Mack" recently having come out gay, and "Good Luck Charlie" having aired episode with a same-sex lesbian couple. While it may have been groundbreaking, it was also long overdue.
Instead of being stuck in a rewind of back jokes and vapid fashion trends, Television should be representative of the society we live in.