"SafetyChick" Kathleen Baty's college safety guide
PTSA's speaker series sheds light on important student issues
The PTSA welcomed personal safety and crime prevention expert Kathleen Baty to present on various aspects of college safety, with issues ranging from the danger social media poses, sexual assault prevention and date-rape drugs.
The new speaker series program was spearheaded by PTSA Executive Vice President Traci Oberman. The goal of the program is to introduce four to six speakers every other month during the academic school year according to Oberman.
"We try and bring engaging speakers that touch on topics that the community and students would be interested in or relevant to. We want to know what the students want to see us do," Oberman said.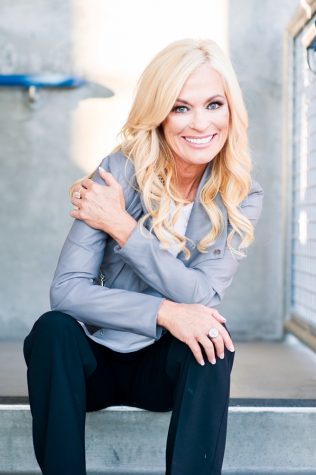 Student turnout at previous PTSA meetings has been low, according to Oberman.
According to Oberman, the new PTSA board is comprised of parents who all work full-time, Oberman said. The PTSA jurisdiction encompasses more than just meetings and speakers but also helps allocate funding and grants for student projects, classroom supplies for teachers and field trips.
Tiffany Lo, a parent who attended Baty's presentation on Jan. 11, wanted her daughter to learn about making smart and safe choices in high school and college environments.
"[The speaker gave] tremendous insight about using our innate intuition to watch out for signals to react and respond through communications and remove ourselves from potentially unsafe situations," Lo said.
Baty holds a wide range of credentials, from CEO of SafetyChick Enterprises to being a two-time published author in addition to a champion for stalking laws.
Baty's speech garnered a full house. She was a stalking victim for 15 years, and at one point, was kidnapped and held at gunpoint by her stalker. This experience forced to learn every possible aspect of personal safety.
Baty strongly encourages the use of "intuitive body signals" stating that without them, all safety tips utilized would be rendered useless.
"The tightening of your stomach, the hair on the back of your neck, all those things mean something. Like animals in the wild, it is innate in all of us. If we tap into that and pay attention to those, nine out of 10 times we would not be in a dangerous situation in the first place," Baty said.
Living in fear of her stalker forced Baty to leave her career in television and the city she was living in. This all changed after Baty testified to along with former California State Senator Ed Royce to implement the first anti-stalking laws nationally.
"[Testifying] gave me my power back. It was so much easier to live in power than in fear … [it is] more stressful and strenuous to live hiding than be open and positive and get the message out. So [testifying] was really what changed my life," Baty said.
Baty said she believes schools should integrate personal safety and crime prevention as a subject taught in schools.
"[It should be] taught in an empowering and positive way as a lifestyle choice just like any other subject," Baty said. "Personal safety and crime prevention and learning how to make those positive personal safety choices and situational awareness should be part of every high school's curriculum."
Baty said she hopes students will leave embracing their personal safety and the positive aspects that come from it.
"I had to learn street smarts the hard way, but in this day and age if I can give you street smarts, something before you have to learn it the hard way, the better. That is my whole goal," Baty said.