JNHS provides new tutoring method
Japanese club proves it is more than just sushi and socials
Japanese National Honor Society now offers a tutoring system in which students are able to receive extra academic help from their classmates. This system allows both tutors and students seeking help to benefit from teaching a subject that they're also learning.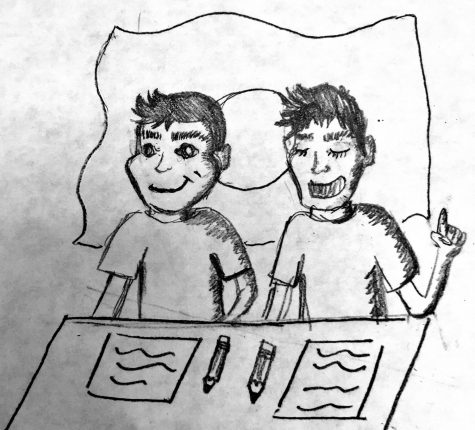 Sophomore Hannah Royappa said she not only enjoys Japanese as a class, but she is also a part of JNHS and tutors students as part of club participation.
"You put when you're available to tutor on the JNHS website sometime during the semester and then … [in the classroom,] the tutor will wear a lanyard that shows they're the tutor for any kid who wants to come find them," Royappa said. "Tutoring is mandatory for all students that are part of JNHS."
According to president of JNHS and Japanese club Rebecca Zhu, students have to complete four hours of tutoring per semester to be able to stay in JNHS.
Besides mandatory tutoring for students participating in JNHS, students on both ends of the tutoring spectrum benefit from having a program like this available to them. It's an asset that gives students more help than just knowledge about the Japanese language.
"[JNHS tutoring] helped me learn that people have different learning ideas and strategies that help them in understanding the material," Royappa said.
Zhu also believes there are serious advantages of having such a system for students taking Japanese.
"For tutees, the main benefit is they receive help on homework and studying for tests," Zhu said. "I think the added advantage of receiving tutoring help from fellow students is that they've taken the class and [have] covered the material before themselves, so they have experience with learning it."
Japanese students also have the opportunity to meet new people through tutoring. Underclassmen can meet upperclassmen that they wouldn't normally associate themselves with, and vice versa.
According to Japanese teacher Junko Birdsong, another major benefit of being in JNHS is the ability to get a red and white tassel at graduation, as well as a certificate. A student can get these benefits only after finishing Japanese 2 in middle school or high school with the required grade and completing one semester of the tutoring requirement during the student's second semester of their senior year.
There are many benefits to having JNHS as a option for a club or for tutoring help. The system that JNHS uses allows students to learn and teach Japanese efficiently and gives opportunities for students to earn community service and school participation.