JNHS volunteers at Cherry Blossom Festival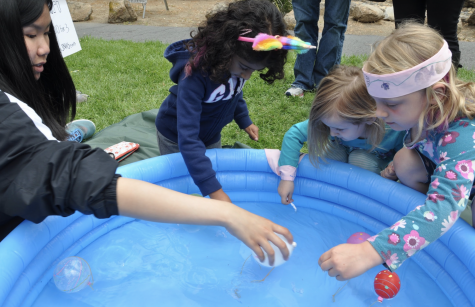 JNHS members volunteered at the Cherry Blossom Festival held on April 28 and 29 and participated in spreading Japanese culture through a game and interaction with children. JNHS event coordinator Erin Tsai and secretary Kaitlyn Lee said the club attends the event every year.
"It is a really significant holiday in Japan and this year it's being held at Memorial Park so it's a way for people here to celebrate Cherry Blossom Festival," Tsai said.
Lee said this event is different from other volunteer events because they get to organize their own booth instead of volunteering through another organization.
"We do yoyo tsuri, which is like a traditional Japanese festival game where you try to fish yoyos out of a pool of water and it spreads appreciation of Japanese culture," Lee said. "It's really fun to play with the little kids, they're always really excited. It's fun to explain what it is and talk to people about Japanese culture."
Sophomore club member Kelly Chow said she always wanted to attend the Cherry Blossom Festival and thought it would be fun to see it while running JNHS activities.
"It's a fun way to learn about Japanese culture," Chow said. "Seeing a bunch of different cultural things around is really cool, like seeing live taiko performances and Japanese games like yoyo tsuri."
Tsai said she enjoys seeing how happy the kids are to be there and interacting with the community.
"Being in JNHS or J-Club isn't just using what we learn in Japanese," Tsai said, "but how do we apply that to the community and how do we help out more, while learning about the culture and being involved with it at the same time."