September invitationals foreshadow success to come
Early September Invitational results allude to future of cross country team in their 2015 campaign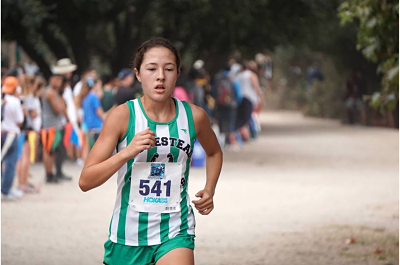 The cross country team had a strong showing at the first meet of the season, the Early Bird Invitational, on September 19th, boasting top runners in virtually every category of the meet. Across the board, the Mustangs placed second overall out of the 70 total teams in the meet.
Such bright early invitation results foreshadow a great season to come. The team had remarkable performances from freshmen Katie Williams and Ryan Ma, sophomores Vincent Li and Elena Kamas, juniors Max Sawyer and Lindsay Allen, and senior Christopher Reed, leading their respective class teams to high placements in the meet.
"Our [boy's team] was 4th overall, " senior captain Adithya Somasundaram said. "We thought it was a good start to the season."
Somasundaram placed 16th for his race, helping the boys senior team finish fourth overall. The boy's team had a combined time of 1 hour 21 minutes 48 seconds, finishing with a new school record.
"It just gave us a point to grow from," Somasundaram said, "we just want to keep getting better."
The girl's team also placed well, finishing third overall. Sophomore captain Elena Kamas noted the improvement from last year's fourth place finish.
"A lot of our teams were on the podium for Early Bird, especially our freshman teams," Kamas said, "It was much better than last year."
The surge of new, talented freshmen further helped the cross country team this year. Junior captain Max Sawyer notes the marked improvement from last year.
"Our team is really strong this year," Sawyer said. "The spread on our team is really small."
The top five runners on the boy's team are very close to each other, constantly changing places in the leaderboard. The new depth of the cross country team also shows promise for a great league run this year, according to Sawyer. The team is aspiring to reach and succeed at the state competitions later this semester.
"We still have a long way to go," Somasundaram said, "but we started off on the right foot."