Students 'expresso' their take on Philz
Why teens are attracted to Philz Coffee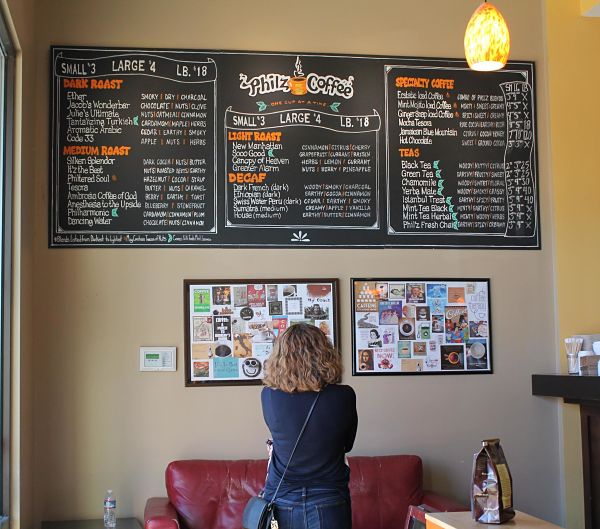 The aroma of freshly ground coffee beans fills the air as you take your first steps in.
Philz Coffee has been growing increasingly popular. Students are raving about the local chain and why they seem to enjoy it more than other coffee shops.
The environment of any business plays a part in its image. In this case, Philz's environment is one of its main attractions to teens. The trendy coffee joint keeps customers feeling welcome and chill in comparison to other shops. A major factor in this is their employees.
"The people working there are usually high schoolers, so they're… around our age, and like they're all really cool." sophomore Audrey Devera said.
Devera finds herself visiting Philz routinely once every two weeks. When asked to rate the environment of Philz in comparison to Starbucks, she ranked Philz a 10 and Starbucks a 6.
"When I go to Starbucks, I wouldn't want to sit down, like I would just want to get my drink and go. I feel more comfortable at Philz." Devera said.
Students find Philz more attractive because it is not as common as other shops, like Starbucks. The lack of a crowd allows customers more space to relax and concentrate. This creates a unique atmosphere for Philz and prevents people from feeling rushed or hassled.
"The fact that Philz isn't as popular as Starbucks … it makes it more exciting to be at Philz." freshman Kathy Rodriguez, a current coffee lover and frequent customer at Philz, said.
Both Devera and Rodriguez felt that the raw quality of the coffee and tea also played a role in what drew them to love and obsess over it. Philz uses a "pour over" process in brewing their straight to the point coffee, rather than extravagant machines. In this process, baristas use a funnel to extract coffee flavors into the cup by pouring water over it by hand.
From an insider's point of view, Gianna Pezzella, a long time coffee addict and a part time employee at a Philz Coffee shop in Cupertino, said, "All the beans we use are super fresh… we have such a variety of roasts and stuff. I feel like at Starbucks, they use more syrups and more artificial things."
Pezzella is presently a senior in high school, so she feels like she can relate to the stress and increasing pressure of it all. Philz has contributed to releasing a lot of that stress.
"The struggles we have with high school, college apps, SATs, all of that. It stresses me out so much and after school I go to work and I kind of have this like giant wave of relief… just going into this awesome environment, it makes me so much happier as a person." Pezzella said.
Pezzella believes that the reason why majority of Philz's customers are high schoolers, is because teens are becoming more open to trying new things in their lives, including coffee.
"I feel like coffee is becoming such more of a sophisticated topic, so people are expanding their like coffee horizons," Pezzella said.