FBLA's Partnership With Business Project collaborates with SkinIQ and their new app
Partnership With Business is one of the four projects in FBLA, and whose goal is to bridge the gap between companies and FBLA.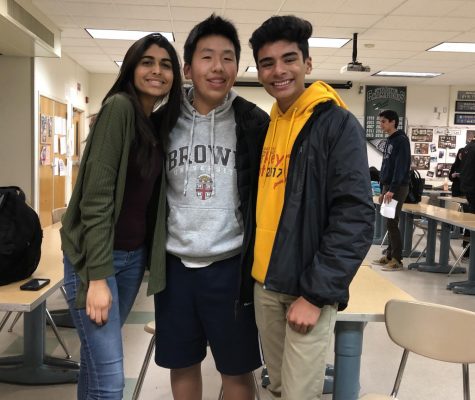 "The Partnership With Business project basically aims to create a mutually beneficial partnership between a company and Homestead FBLA. The goal is to give members the opportunity to learn essential business skills and the company to grow successfully," sophomore and project chair Sruthi Rayaprolu said.
In 2015, PWB collaborated with Google to help introduce the product Google Classroom to the market.
This year, they've collaborated with another company called SkinIQ, which is a startup based in Mountain View. The app that PWB is helping SkinIQ with is called Clara, whose focus is on skin acne.
"Clara diagnoses the type of acne that you have, and then recommends you a bunch of different products and different regimens that you can use to fix your acne," sophomore and project chair Rohan Zamvar said.
PWB members do many things for SkinIQ to help improve Clara, such as giving them app feedback on all aspects.
"The first thing we did in the school year was we gave a lot of app feedback for that relating to the aesthetics all the way to the usability. Using that information, we were actually able to — as a project — come up with a lot of different designs for new app features that we wanted to see in the app itself," Zamvar said, "Recently, we've been working on making commercials for SkinIQ, and those will come out hopefully after ski break."
This kind of direct interaction with companies in PWB is hard to find anywhere else on campus or in your high school career.
"People join FBLA to develop leadership skills, business development skills or business management skills, but PWB takes you to that next level in giving you the ability to work one-on-one with the company, which is something that 99% of people don't get the chance to ever experience in their high school career," PWB member Martin Liu said.
Support for PWB comes in forms other than joining the project.
"We really recommend that everybody on campus downloads the Clara app, and we will be putting our more information on how you can download Clara on the Homestead FBLA Instagram. If you check that out, it'd be a really great way to support PWB," Zamvar said.