Science Olympiad dishes on competitions
Science Olympiad participates in a variety of competitions throughout the year. The competitions are comprised of participation in a variety of events.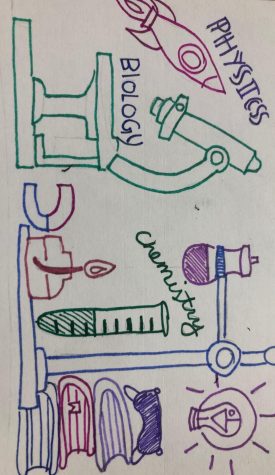 "For science olympiad, there are many different events. There's two teams for our club. Each team has different events and basically, it ranges from all the sciences-there's physics related stuff, biology related stuff, and chemistry related stuff- there's actual building or actual lab involved stuff as well," senior Reet Mishra, one of the co-presidents of Science Olympiad, said.
Each competition team from HHS is made up of about 2-3 students, and each competition group focuses on a different event. At a typical competition, there will be a variety of events at different times during the day. When the event specific to a group comes up, the group will go and participate in it, according to Misra.
"So basically every team of 15 competes in the same set of 20 events or something like that," senior Anisha Chandra, the other co-president of Science Olympiad, said.
Each event at the the overall competition is structured differently. The one thing all the events have in common is that they are scored by a set of judges. However, these events can differ greatly, and can range from taking a test to building a prototype, sophomore Kiara Ning, the Team Manager for Science Olympiad, said.
Preparation strategies for competitions include weekly meetings for the competition participants, study events, lab events, and mock tests. One new method of preparing members for competitions that Science Olympiad has executed this year includes mentoring event participants.
" Each of 5 officers took charge of 4-5 events, and they communicated with the members who participated in those events, and just check in on them frequently," Chandra said.