Sushi Social attracts fans of Japanese cuisine
Food is a major part of every culture's identity. In keeping with that theme, the Japanese National Honor Society hosted a sushi social on May 10 to teach students how to make Japanese food.
JNHS member, sophomore Erin Su, said most JNHS socials tend to share a lot in common.
"A lot of our socials are centered around food," Su said. "We had a takoyaki social. This is the sushi social, and, in two weeks, we are going to have a kakigori social."
To Su, the presence of food at many of JNHS's socials serves as more than just a quick snack.
"It's really fun because we make a lot of the food here and we center our socials around that aspect," Su said. "It's fun to hang out with your friends and to have a lot of food and games."
JNHS president, senior Victoria Gibbs, adds that events such as the sushi social have been a past favorite of students.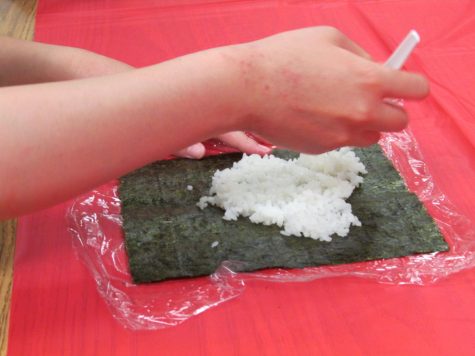 "We kind of repeat the events because a lot of the members like the sushi social and other socials that we have," Gibbs said. "If there's food, people tend to come."
Gibbs also said that although the sushi social is centered around Japanese culture, all students are welcome to attend, regardless of whether they are a member of the club or just interested in Japanese culture.
"All of our events are super fun," Gibbs said, "Even if you don't know much about Japanese culture, you'll learn something when you come. You'll learn how to make food, you'll see other people who are also interested in Japanese [culture] … Even if you're not friends with someone who's going to be at the social, we're all super nice [and] welcoming, so it'll be fun."
For example, senior Nikhil Kulkarni, who is not a member of JNHS, was present at the social to learn how to make sushi.
"I came because Vicky [Gibbs] told me about it and I thought sushi was a great way to just have some fun and meet other people," said Kulkarni.
In addition to attending this sushi social, Kulkarni has been present at a number of other JNHS events such as J-night, hosted in March.
Kulkarni said that, despite not being a member of JNHS, going to club events is still enjoyable for him as it gives him the opportunity to learn more about what these clubs represent.
"I think for a lot of cultural clubs we have, a lot of the events revolve around spreading cultural awareness as well as providing members with the opportunity to learn more about what these cultures represent," Kulkarni said.