2015 IDC Exchange at Lynbrook High School
LHS recently hosted the district's first IDC Exchange of the year on Oct. 8th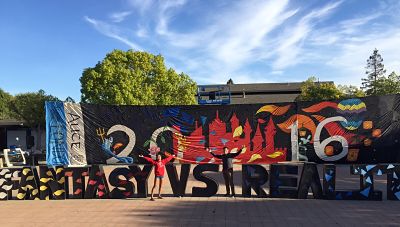 I
n the FUHSD, students are given opportunities to spend a day at another high school in the district. This opportunity is called IDC Exchange and it stands for Intra-district Council Exchange.
According to the FUHSD website, every year, IDC Exchanges attract many HHS students that want to socialize with other students in the district and hope to learn more about the culture of different high schools.
"I think it's one of the dopest ways to interact with new students and discover awesome events at other schools that are not hosted at Homestead," senior Rohan Vaidya said.
At a typical IDC Exchange, visiting attendees shadow students of the host school and follow them around for the day. Visiting students are given the chance to take in their new environment and interact with students they have never met before.
The first IDC Exchange of the year took place last Thursday when FUHSD schools were invited to spend a day at Lynbrook High School (LHS).
On this particular day, Lynbrook High School celebrated their annual Homecoming, displaying school spirit by showcasing dance and skit performances.
"Lynbrook High students used most of their campus to place decorations and what's awesome is that everything followed a theme." Vaidya said.
Events such as LHS's Homecoming are not uncommon on IDC Exchange days, and according to FUHSD Student Board Rep Cyrus Miremadi, these events, in addition to meeting new students and spending a day on a foreign campus, leave a very memorable experience for students.
"I definitely do recommend IDC Exchanges. It's a unique and beneficial opportunity for Homestead students to be lent a great deal of perspective." Miremadi said. "Plus, who wouldn't want to see what other schools are like?"
There are five IDC Exchanges every year and if interested, additional information can be obtained from Homestead IDC representatives, Johnny Kobori, Rohan Vaidya and/or Cyrus Miremadi.
The next IDC Exchange will be held at HHS on Dec. 4.