Vu's 'smashing' success
Sophomore Thien Nhi Vu shares plans for future, hopes for varsity tennis team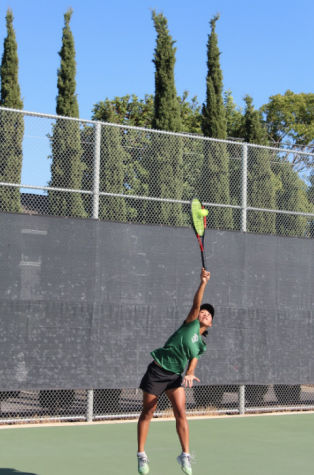 Sophomore Thien Nhi Vu started playing tennis as a pastime when she was just five years old.
Vu said she is looking forward to being on varsity this year and winning matches. Although she said she was originally forced by her dad to play on the team last year, Vu has learned to embrace the sport, commenting that the PE credit is an added incentive.
Vu said her goals are to win her matches, improve her technique and hopefully play singles or first place doubles in the starting lineup. 
Being one of the youngest people in any situation can be intimidating, and being one of the only sophomores on varsity tennis is no exception. 
"It's just a good feeling because you bond with girls who are older than you and they give you advice on everything," Vu said.
To be successful, a team relies on collaborative effort and everyone's individual strengths. Vu said she believes that to be successful this season, the team can work on improving their consistency as well as focusing more on strategy.
"Most of the time, I don't think a lot of us think about strategy and our opponents' weaknesses," Vu said. "We realize it after the coach tells us, so I think we can all improve on thinking on our own."
Regardless, Vu said she loves the strong connection between the girls on the team and cherishes the time spent with them because her teammates make the experience enjoyable.
On or off the court, Vu said she is constantly looking for ways to improve herself. Some of her goals include becoming a more studious person and sleeping more, she said.  
"I need to get good grades and be focused and concentrated and be more understanding as a person," Vu said. "I want to keep playing during high school as a hobby and sport, but I'm probably not going to be good enough for college."