Coach recalls journey through tennis
Kwong reminisces about youth involvement in tennis, job openings
JV girls and boys tennis Coach Edmond Kwong said he has been interested in tennis  since he was in high school, and has been able to continue his passion for the sport through an unexpected coaching position. 
"I started playing tennis when I was a freshman in high school," Kwong said. "There were no video games or anything so I played a lot of sports during my high school years."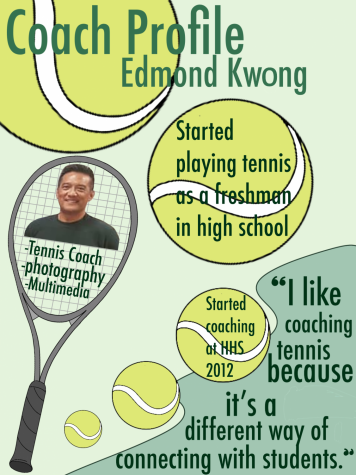 As a photography teacher, Kwong said he never intended to be a long-term tennis coach. He took on the role after the resignation of the previous boys tennis coach. 
"The coach made a last-minute decision [to] not [return] to the team, and the school was having trouble finding a new coach," Kwong said. "I told the athletic director at the time that I played tennis, [and I] was able to help out with tryouts." 
This decision opened the door for Kwong as a long term tennis coach here at HHS. 
"After tryouts [were] over, the varsity boys team decided to ask the athletic director to have me as a coach," Kwong said. 
As a tennis coach, Kwong said he loves seeing the improvement of players. 
"I like seeing players develop," Kwong said. "That's probably why I like coaching JV more compared to varsity because [it involves] a little bit more teaching."
Kwong is a huge believer in community building, he said. He believes that the best thing about tennis is that players are able to connect with one another. 
"Tennis is like any club on campus: students come together because of a shared interest," Kwong said. "Since it is a physical activity and not academic-related, it is very good for personal growth." 
Coaching tennis reminds Kwong of the fun he had in high school as an athlete. After drifting away from his passions, he said he is glad to be back in the game. 
"After I started coaching, I realized what a fun sport [tennis] was," Kwong said, "I am now playing tennis again, [and] I'm happy to be a tennis player once more."