Leadership to plan alternatives to in person events, spread positivity
Leadership has postponed, and will likely cancel, several of their planned events for the school year — including the IDC exchange, battle of the classes (BOTC) spirit week, spring fling and junior prom— in accordance with the restrictions on event size placed by Santa Clara County, as well as the closure of school in response to COVID-19 (coronavirus), ASB president and senior Lior Kishinevsky said in a phone interview. 
Leadership had to work quickly to cancel services that were scheduled for events, like DJs and food, and request refunds, Kishinevsky said. 
"
It's definitely creating some kind of unity, because we all are struggling during this time."
— Tam Dan Nguyen
Countless hours were put into preparing for BOTC, from writing scripts and organizing games for the rally to the hours of practices for dance groups, Powderpuff and cheer teams, ASB secretary and junior Tam Dan Nguyen said in a phone interview.
The cancellations also affected class-specific events, such as spring fling, which is hosted by the freshman and sophomore classes.
Class officers had been preparing for this dance for three months, with weekly meetings, sophomore class secretary Minnie Karki said in a phone interview. Since the dance was a little over two weeks away before it was officially postponed, the class officers already had the DJ, food, venue and decorations ready to go.
Junior class president Trevor Burgess said in a video interview that most of the cost of junior prom has been refunded or reimbursed, with the exception of the initial $5,000 deposit, which will be transferred to the class of 2022's junior prom.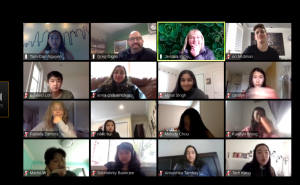 Unfortunately, junior prom is the main class fundraiser, junior secretary Taner Karaaslan said in a direct message.
"The amount of money we lost is going to be really detrimental for us next year," Karaaslan said. "We won't have much money to have the perfect senior prom that all of us really want."
Upcoming senior class events are also uncertain at the moment. If school does not resume, events such as senior sunset, senior prom and a traditional graduation will be canceled, ASB vice president and senior Carolyn Shan said in a phone interview. 
As a result of the school closures, Kishinevsky said the role of leadership has changed since they can no longer organize these traditional events. 
"While we can't do anything in person," Kishinevsky said, "we can still do [events] virtually."
The leadership team is considering alternatives to in-person events, such as a social media event in which the entire student body can participate, Kishinevsky said. 
Leadership is also focusing on fostering an optimistic environment for students. 
"Hopefully, we [can] plan events that unite our school and just promote positivity," senior class officer Athira Rajiv said. 
Karaaslan said he has been impressed by the response to the cancellations from students. The junior class officers continued to receive promposal photos on social media, even after it had been announced that prom was postponed.  
Despite the cancellations and mandates for social distancing, Nguyen said she has noticed that people have grown closer together. 
"It's definitely creating some kind of unity," Nguyen said,"because we all are struggling during this time."