Shelter in place order extended, further restrictions imposed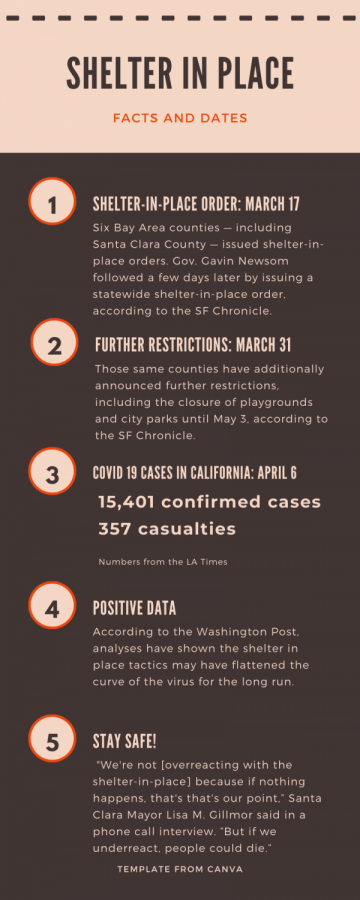 With the ongoing spread of COVID-19, six Bay Area counties — including Santa Clara County — issued shelter-in-place orders, which began on Tuesday, March 17 and was expected to last until Tuesday, April 7.
Gov. Gavin Newsom followed a few days later, issuing a statewide shelter-in-place order, which is still in effect, and was recently extended to last until Sunday, May 3. 
Those same counties have additionally announced further restrictions, including the closure of playgrounds and city parks until May 3, according to the SF Chronicle. 
The goal of the shelter-in-place order is to prevent large gatherings of people and, therefore, slow the spread of the virus.
"We have already sent a lot of our employees home … and told them to shelter-in-place to stop the spread," Santa Clara Mayor Lisa M. Gillmor said in a phone interview. "We obviously want to keep people healthy and alive."
The shelter-in-place order requires people to stay at home, with the exception of leaving for essential activities, such as to receive medical attention, get necessary supplies, care for family members or engage in outdoor activities, as long as there is six feet of social distancing maintained at all times, according to CNN. 
"I think that as we continue to do it [social distancing] we realize how important it is," junior Sahiti Kadiyala said in a phone interview. "Because the virus is spreading so quickly, and it's really important that we all stay inside and … [do] our duty."
In addition to the shelter-in-place order, schools across the state have been shut down through the remainder of this school year.
Freshman Andria Xu said in a phone interview she thinks FUHSD teachers have done a great job modifying lesson plans to deliver online instruction.
"The teachers have done a really good job of determining which topics are essential to learning," Xu said.
The shelter-in-place order is also important because it provides relief to the hospitals, Gillmor said. 
"You can look at China and Italy as examples of what we don't want to happen to us," Gillmor said. "We don't want to be in that position [that Italy is in] to determine who lives: a 30-year-old or your grandmother. That's why we're taking this so seriously." 
Gillmor also said COVID-19 has resulted in many cases, each of which requires a prompt response. One specific case involved firefighters who are now in quarantine because they were exposed to the virus.
"We had certain firefighters that were in quarantine because they were exposed. We had our first police officer that contracted the coronavirus," Gillmor said. "Of course, he's in seclusion, and everyone that had worked around him is in seclusion as well. So we're starting to see the effects of that." 
Although some might be saying that the shelter-in-place response is an overreaction, Gillmor said it is better to overreact than to underreact.
"It's been hard for governmental agencies, school districts … We're not [overreacting] because if nothing happens, then that's our point," Gillmor said. "But if we underreact, people could die."
In fact, according to the Washington Post, analyses have shown that shelter-in-place tactics may have flattened the curve of the virus for the long term. 
Kadiyala also said she believes the shelter-in-place order helps make people feel safe and secure.
"It makes me feel like the possibility of getting the virus is a lot less because I know that I'm taking the precautions to not expose myself," she said.