Parent, student dynamic enhanced during lockdown
With the end of quarantine unknown, families adjusting to life indoors
Due to the shelter-in-place order set in place by the state of California, many parents have been forced to work from home, either due to work closures or having to look after their kids because of school closures. 
Freshman Mae Richardson said she and her entire family have had to stay home due to the order. Her mother, who is a substitute teacher, can't work since the schools have shut down. However, a plus side to the situation is that she can spend more time with her family, an opportunity many families now have.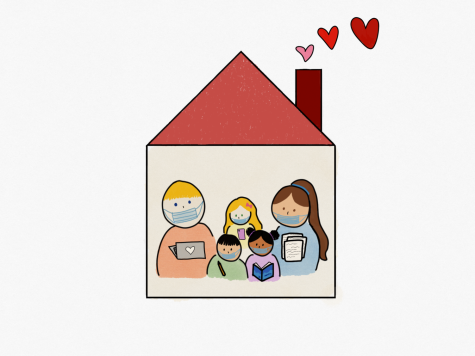 "We play games," Richardson said in a phone interview. "I cook with my mom, and I also clean."
Richardson also said her house looks different than usual, since everyone in her family is now at home.
"It is louder and it is cleaner," Richardson said. "[But, I don't have issues completing my online classes] because my brother is quiet, and my sister is too."
Freshman Eugenie Lanilis said her family is also staying home, and the environment has taken some time to get used to. 
"My father is working hard at home now," Lanilis said in a phone interview. "With his work schedule and my school schedule, it took some time to adjust, but now we're comfortable."
Freshman Anaya Patel said her family is also settling into life sheltering in place.
"It is quite stressful because someone is constantly in a meeting that requires silence periodically in the house," Patel said in a phone interview. "The crazy amount of work that teachers have been assigning is also stressful and requires a lot of self motivation, which is hard for many students."
Not everyone is lucky enough to be able to work from home easily though, and that puts a strain on things, Lanilis said. Some parents may be out of a job, or working from home while also looking after their kids.
"It's really difficult because there are many cases like this," Lanilis said. "In times like these, you can't hire a babysitter or trust a neighbor because of social distancing. At the same time, not everyone is at the age [where] they can be trusted alone."
The coronavirus has brought many complications into our everyday lives, and it's unclear as to when this will all be over, Patel said.
"People's negligence towards social distancing is insulting [to] the people that are affected," Patel said. "The fact that people are meeting up even though they don't have the [coronavirus] is insane. They risk exposing many people, which is not fair to anyone. When people do these things, they are not allowing the pandemic to decline [to a point where] we can be out of quarantine."
 Social distancing is crucial to everyone's health, and people can help curb the mounting number of cases by not going out, Lanilis said.
"The best thing for everyone to do is stay home, so the virus will spread less and we can all resume our lives [sooner]," Lanilis said. "It's hard to stay home all day and it's difficult for a lot of other families too, but it's important to remember that we're not stuck at home. We're all safe at home."