The dangers of shopping during a pandemic
Grocery shoppers face limits, lines while shopping for vital supplies
Grocery shopping, something most people do on a weekly basis, has changed drastically due to the COVID-19 pandemic. According to CNN, workers are most at risk for contracting coronavirus. However, shoppers face risks, too.
Freshman Elise Vambenepe said her family has been buying groceries more often because they eat out less. She said boredom has caused them to try cooking new things.
"We cook things like desserts, which we wouldn't [cook] regularly before," Vambenepe said in an email.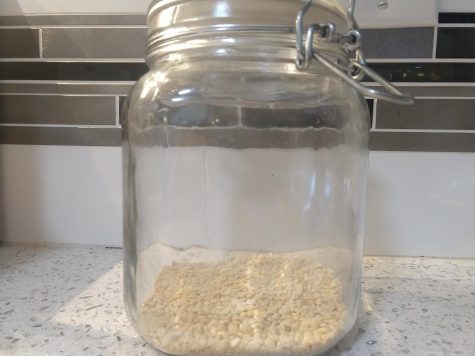 Many people have turned to trends such as bread making. According to Vox, cookbooks like "Flour Water Yeast Salt," which is a bread making book, have become best sellers during this pandemic. King Arthur Flour, a bread flour and all purpose flour company said its online sales are up 2,000 percent, according to Adweek. 
Freshman Neerharika Yedunuthula said she thinks these trends are a good idea.
"I haven't joined any trends but it's a time passer and is really useful [for when you are bored]," Yedunuthula said in an email. 
However, these trends have caused important supplies such as flour and yeast to rapidly disappear.
"[My family was] unable to find yeast [when] we hopped on the bread making train," Vambenepe said. 
Yedunuthula said she found similar problems when she went shopping for soybeans.
Due to the coronavirus, many stores have created new systems for shoppers. Sophomore Indhu Chandra said these new rules helped her maintain social distancing while shopping at Trader Joe's. 
"There weren't many people inside the store because there were lines outside [that] limited the number of people who could go in," Chandra said in a phone interview. 
Shops have also limited the number of items people can buy during a single visit. According to SF Chronicle, Costco has limited all beef, fish, and poultry to three items per member. Chandra commends the efforts of the grocery stores. 
"I feel like people would buy a lot of the same thing [if they could] so I think that it's good [they are putting limits]," Chandra said. 
However, Vampenepe said these safety rules could be improved in other stores, like Costco. 
"The best way is probably to have stronger enforcement of who can enter," Vambenepe said. "[But] it's tough because the lines are already so long."
While there is no end in sight for this pandemic, Yedunuthula said she thinks it will definitely change the way people shop for groceries. 
"There won't be as much window shopping [and] more shopping will be done online," Yedunuthula said. 
Online shopping services have seen surges in orders. According to The Atlantic, the company Instacart hired 300,000 new "personal shoppers" to pick up and deliver groceries. 
"People will [also] start to cook at home more often [because they will] see the economic benefit," Vambenepe said. 
According to Forbes, on average, it is five times more expensive to order delivery from a restaurant than it is to cook at home. The average cost per serving of a home cooked meal is $4.31 compared to $20.37 for a restaurant delivery. 
Overall, Vambenepe said her family tries to limit their outings to one per week. However, she said it is still important not to hoard supplies during these difficult times. 
"Sharing is caring," Vambenepe said. "Did kindergarten not teach you anything?"