'You can't keep everyone else warm by setting yourself on fire'
Teachers at home face added responsibilities with distance learning
With the sudden and dramatic shift from in-person to remote learning, teachers have risen to the challenge and quickly adapted to online learning. However, issues arise for teachers who are also parents, as they have to simultaneously serve as both educators of their students and caretakers of their children.
The circumstances caused by the pandemic have blurred the line between work and home. Some children see their parents at home and assume it is okay to interact with them, physics teacher Kathleen Shreve said.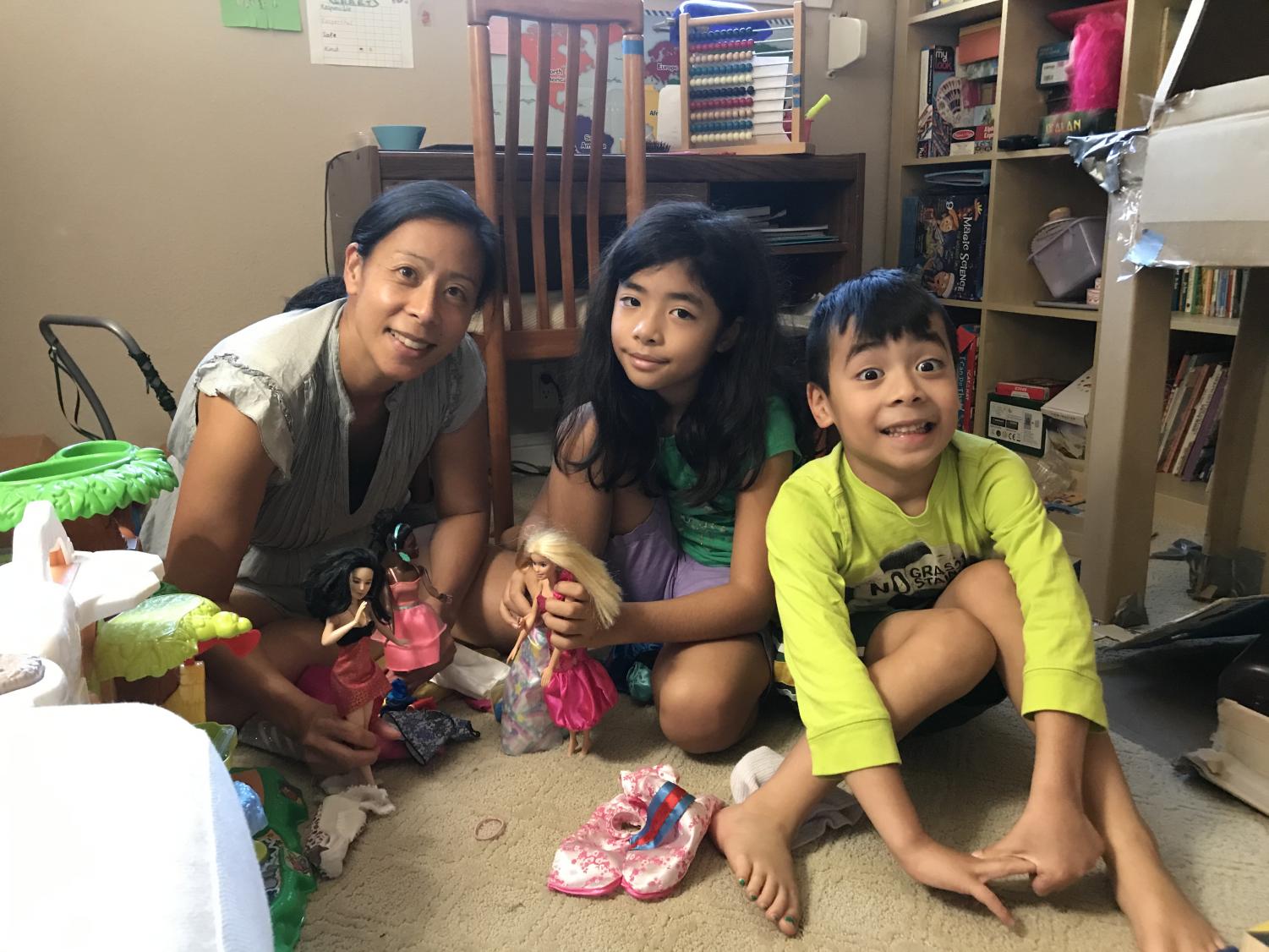 "It's really hard to negotiate with a kid who sees that mommy is home, but mommy can't talk to you right now, mommy's talking to her students," Shreve said in a Zoom interview.  
Some teachers have to spend time tutoring their own children or helping them navigate distance learning while also managing an entire class, math teacher Shawn Southerd said.
"[I'm still teaching] when [my kids are] done with their meetings, which are typically an hour from eight to nine,"Southerd said in a Zoom interview. "So then normally you might see me throw you on break for three minutes while I go get them to the next thing and then come back and get you started. Or you'll just hear them asking, 'Hey, Dad, what do I do next?' So there's just interruptions there."
Southerd is not alone, as many teachers are now forced to alternate between helping their kids and teaching their students. The added responsibility during the day, combined with the transition to distance learning has taken its toll on many teachers, Tom Avvakumovits, FUHSD associate superintendent of teaching and learning, said. 
"Before COVID, when [a] child is in first through eighth grade, they'll be at school all the time … [now] it's really hard to play the role of parents and teachers," Avvakumovits said in a Zoom interview. "I've spoken to numerous teachers who find this a real challenge."
With emails from students piling up and children who need to be taken care of at home, teachers are now faced with limited time to grade and prepare their lesson plans, Shreve said.
"You can't keep everyone else warm by setting yourself on fire," Shreve said. "And that's the same sort of analogy where it's like … people who are asking for [things from] me, [I have to be] very clear and say: 'hey, it's great that you need that from me. I will get to it when my daughter's asleep, or I'll get to it when I can. And that's kind of the reality of it. It is, like, I am having to sacrifice a little bit of my time with my child to stay on top of my work."
History teacher Andrea Yee said the transition from physical to distance learning has caused other problems within her household.
"I think what's currently stressing me out [is that] my daughter is having a lot of sort of social emotional problems right now," Yee said in a Zoom interview. "She's used to being at school and interacting with people and it's not the same for her [to] interact with friends on Zoom."
Southerd said his kids require more help from him during the school day because they are younger.
"[My children] can't text their teacher like you guys might text me," Southerd said. "So I'm sitting there helping them out or my wife is sitting there helping them out. It's just a lot."
Despite all the problems with distance learning, Southerd said HHS and FUHSD administrators have been very supportive of teachers. 
"Giglio has been great, he's checked in with me in terms of how's it going at home," Southerd said. "He understands that we're a unique family and that both of us are teachers within a district and have three kids."
Throughout the summer, the district worked to support teachers and make the transition to distance learning easier, history teacher Daniela Hurst-Ruiz said.
"They gave us video clips, so I do have to say, I have only praise for the district," Hurst-Ruiz said in a Zoom interview. "They put in a lot of work to make teachers really comfortable. In comparison to other schools that I know of, I think our district has done really a lot."
To help teachers juggle personal life and work, the district has allowed staff to bring their children to campus while they are teaching, Avvakumovits said.  Additionally, the district is looking into other care programs for teachers with elementary- and middle school-aged children.
"We've also looked at school care models where staff members who are parents could bring their kids to some type of school care [where, for example, an adult] would facilitate students to be able to log into their third grade class," Avvakumovits said. "Unfortunately we've run into the [problem] that high schools aren't licensed for this type of thing. [So for now] our teachers are finding ways to do it."
Despite the struggles, Yee said she is happy distance learning has given her the opportunity to spend more time with her kids. 
"I think one way to cope and I think that also helps our kids [is] having that family time," Yee said. "I always complained in the past about not having time with my family, so now I have a lot of time and I'm really seeing that as a positive."