Ethnic clubs struggling to engage with students
With limited options, ethnic clubs are improvising new methods to attract student participation
Keeping students connected has been one of the biggest obstacles during online learning. While clubs give students the opportunity to see and talk to Kther students, they still face a set of problems regarding student engagement.
"There's no communication, because we can't make a group chat, because not everyone has Instagram," sophomore Rylee Taryn, secretary of Black Student Union (BSU), said in a Zoom interview. "And we can't have a regular group chat because not everyone in the club has a phone."
Additionally, clubs such as French club have struggled with recruiting new members, Taryn said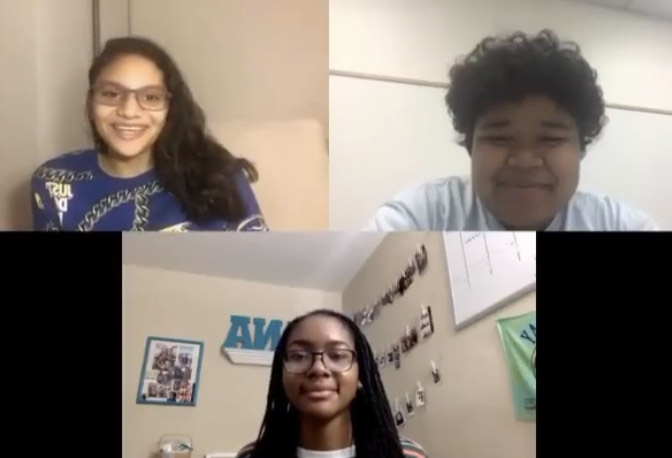 Hearing about clubs and what they do is difficult because it's hard for new students to know where to look for club information. Clubs are not often mentioned in classes, other than around the time of the club fair at the beginning of the school year. 
After the club fair, there is not a whole lot of information about specific clubs communicated to students who are not already involved or signed up to be involved with a club. This makes it difficult for new students, especially freshmen, to learn more about club offerings on campus.   
"Getting the word out about our events is a lot harder now because we used to have announcements in the loud speaker and we don't have that anymore," junior Isabelle Fejes, secretary for the Japanese club, said.
Senior Wendy Guillen, a Latinx Student Union (LSU) member said one barrier to club participation is that many students feel unmotivated to join a club Zoom meeting after being on Zoom calls all day. 
"Students are struggling with motivation right now," Taryn said. "Most of us are just trying to adapt and learn to the best of our abilities. Because of this, clubs may seem unnecessary and time consuming."
Getting students to join club meetings can be difficult, but getting students to actively participate in club activities is even more challenging. 
"It has been harder to keep the members interested in the club activities," LSU member, junior Jaqueline Perez said in a Zoom interview. 
Students may feel awkward unmuting or participating if others aren't. Because of this, clubs are not reaching their full potential with their activities.
Another challenge is keeping club members connected when not everyone has the same access to social media or even technology. However, for those who do have it, social media has helped  keep students informed about meetings and activities. 
Most clubs, including BSU, have an Instagram they use as their main platform for communication with club members.
Additionally, ASB's Instagram has helped cultural clubs attract more attention and remind students of various club events, since they have a large number of followers. 
Japanese club also uses Instagram as their main social media platform; however, they are able to spread most of their information by talking to students in the Japanese classes, senior Isabelle Fejes said. 
Due to COVID and remote learning, club activities also look a lot different than what they looked like last year.
Fejes said Japanese club is working to host activities to keep club members connected. However, unlike in previous years, these activities are not group orientated, but instead are more focused on the individual.
"A lot of the events now are more individually driven, like the virtual field trip to the Japanese museum," Fejes said. "[Other activities include] creating a playlist of Japanese songs [and] sending penpal emails to other club members." 
Similar to Japanese club, LSU is also hosting activities for club members to help keep students actively involved and provide more of a school ambiance, Perez said.
"Every week we have a country and then with that country we have a social," Perez said.  "We just make either a snack or dessert from the country, which has been a lot of fun."
LSU officers have been focusing on making their virtual activities fun and interactive for club members, Guillen said. 
"[While learning about different Latin American countries], we're doing different categories such as talking about specific countries, and the different aspects of their own cultures, and watching videos." 
Ultimately, while ethnic and cultural clubs may be struggling to recruit new members and maintain active club environments during remote learning, club officers and members are doing everything they can to make the most of the current situation.
"We text each other updates which is really nice, because to have a successful club you have to have that unity between the officers," Guillen said. "We're all friends, so that helps us because we all understand each other and there's great communication overall."
If you are interested in joining one HHS's cultural/student unions, you can learn more about club offerings and opportunities for involvement by visiting the ASB website.