KREW making up for lost time
Virtual showcase offers chance for students to show off their hard work
KREW, a subgroup of the Korean Student Association club in which members learn K-pop dances and perform at rallies, will be participating in a spring virtual showcase with schools all around California, captain junior Isabella Cheng said in a Zoom interview.
KREW's focus in prior years has been on performing at HHS held rallies; however, Cheng said with the special circumstances this year, KREW has looked into other means of showcasing their members' hard work. 
"The showcase [will] allow a bunch of groups to put their dances into something big," KREW member, freshman Amaya Lin said in a Zoom interview. "Because there hasn't been as much motivation without competitions, we're giving groups an opportunity to show their dances."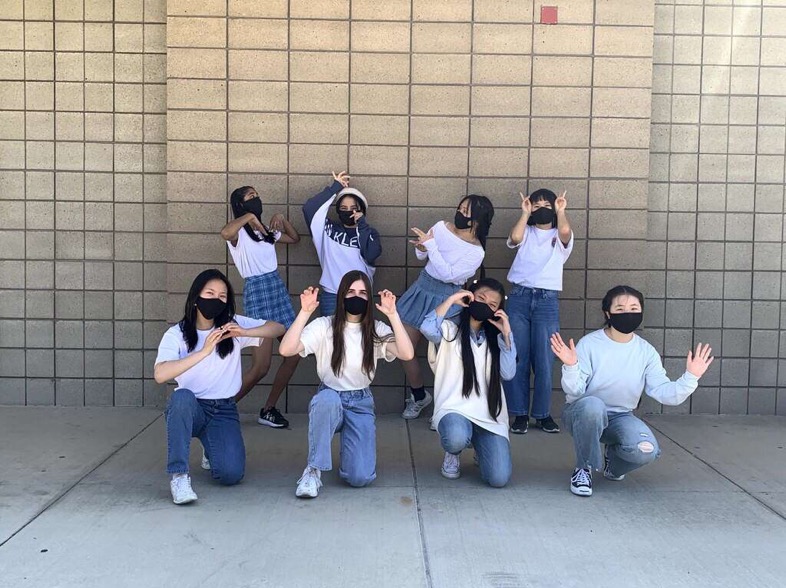 As the main organizer of the showcase, Cheng said KREW is responsible for gathering the performance videos sent by other participating schools and compiling them into a spectacular display. 
"KREW has been around for a long time but has never done a showcase or event like this," Cheng said, "so it's a big deal. It is also a good stepping stone for KREW because we're starting this virtually, and then once we get back in person we'll hopefully host bigger events."
Within the teams, members have divided roles and responsibilities, Cheng said.
"I'm contributing as a member for the choreographies we're doing, and I try to help out as much as I can when it comes to formations and technicalities," freshman Shristi Thakur said.
Thakur said she is ecstatic about the upcoming event, specifically about spending more time in the spotlight, on camera, with the other group members.
"The showcase is important because it gives us a reason to get together and practice, and we get to put our passion into something," Lin said.
Cheng said one of the greatest reasons behind the creation of the showcase was to provide members with a safe, enjoyable and interactive spring activity.
"I've been dancing since I was a kid and seeing as the pandemic made it so I can't go out and be with people anymore,  it's really cool just being together and producing something that we all want," Thakur said.
Homestead has several dance teams, but what makes KREW unique is they're a subgroup run by the Korean Student Association. In KREW, members learn K-pop dances and perform them at rallies.
"[KREW's] main purpose is to perform [at] school rallies or additional events that the school holds," Cheng, who is also the social manager, said. "In some cases, we hold our own events, and basically we set up workshops that people are interested in [and at] those workshops, and we prepare a performance."
Since HHS has not had in-person rallies this school year, KREW has looked a little different from prior years, Cheng said.
In the spring virtual showcase, schools all around California will perform, but most of the schools are from the Bay Area.
Cheng, who is organizing the virtual showcase said  schools will send her their performance videos, and they will compile them into a larger video that will then be displayed for everyone to watch.
"The [reason were doing] the showcase is to allow a bunch of groups to put their group dances into something bigger," Lin said. "Because there hasn't been as much motivation, with no competitions for this kind of dancing, we're giving an opportunity for groups to showcase their work."