Quarantine is the perfect opportunity to set up a virtual game night
Tabletop club members offer advice on how to ace board game set up online
Board games can be a perfect way to spend time with friends. Their engaging structure can be the perfect opportunity for new acquaintances to get to know each other or for age-old friends to spend time together, tabletop club co-president, sophomore Asha LaManque, said in a Zoom interview. The only downside is that board games have physical boards, cards and pieces, none of which can be properly distributed over a large distance.
Tabletop club has overcome this difficulty with distance learning. The club is intended to give students the opportunity to play board games and take a break from the relentless stress of school, LaManque said. She said she recommends the club to anyone who's competitive, likes board games, needs a break or just wants to have fun.
Board games can also be a useful social tool to bridge the gap in a long-distance friendship or to keep in touch with family members who are confined to their own home.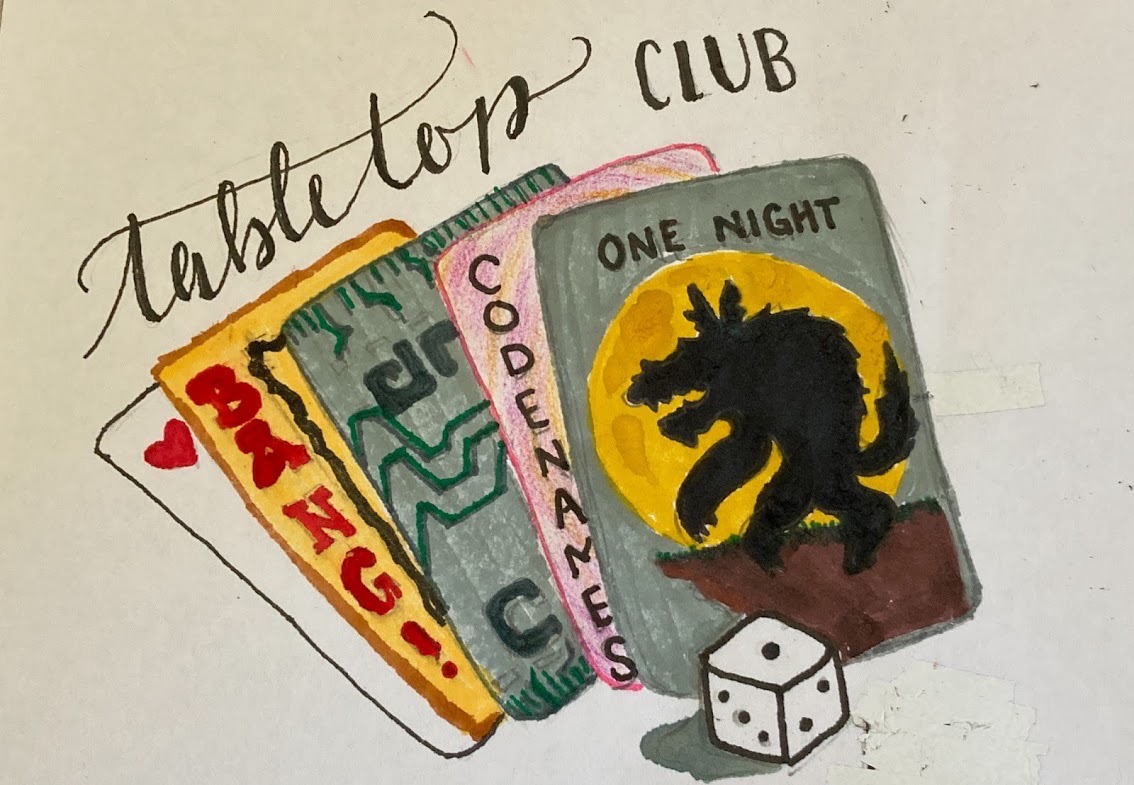 "My family absolutely loves playing games together," board game lover Murphy Forsgren said in an email. "I live in California, [and the rest of my family lives in other states], so we don't get to be together very often. When we are, we spend almost every night playing games. It brings us together."
Tabletop's answer to the distance learning dilemma was to play board games online over Zoom.
"One of the three we do best over Zoom is skribbl.io," co-president, sophomore Katherine O'Dell, said in a Zoom interview. "That's like Telestrations, where someone draws and then everyone else has to guess what they're drawing. And then there's Spyfall, where you're all secret agents put into a place, and you have to find out who the spy is by asking questions."
Conversely, it's possible, though challenging, to play on a physical board, even miles apart, board game enthusiast Claire McGhehey said in an email.
"Patience [is key]," McGhehey said. "We had to get creative with our board game nights. Technology like Zoom is very helpful. When we played, one person acted as the operator. They have the board game set up at their house and use an iPad to focus on the actual game. All the other players pinned the board as their main screen. We all had our own dice to roll and told the operator how to move our characters. It was a bit challenging, but it was still fun."
For those starting out who find board games appealing, it can be tough to jump right into complicated games, LaManque said.
"Just play card games [to start]," LaManque said. "It depends what type of games the beginner would like, but monopoly or life [are good starting points]. Those are classic games, so start there and then you can build up to really complex games like Catan that take like half an hour to play and have like a lot of rules."
But if card games seem dull, it is still possible for less experienced players to enjoy the benefits of more difficult games, Forsgren said. 
"Try out different games and see what you like," Forsgren said. "There's such a huge array of games out there that have different skill levels, different time requirements and strategies involved. Hopefully there is something that you will have fun with. Some of my favorite games are ones that I completely did not understand the first few times that I played them, so don't be discouraged."
It's usually best to invite at least four players to a gaming night, O'Dell said, adding it's often the case that the more players there are, the more fun the game is. Similarly, LaManque said if there are too many people to play one game, the players can split into groups.
"Whatever site you're using, test it beforehand, because no one likes to sit there for 10 minutes while you work out all the technical difficulties," O'Dell said. "If you can, get your family on so you can try a trial run and just see how it works."
A good game night often requires good snacks, even if they can't be shared amongst friends, LaManque said. She said she recommends hot chocolate and chips or popcorn for any hungry board game player.
"For a gaming night, I would probably set up around an hour and a half to two hours because that allows for a little bit of talking before and after and a little bit of time if any technical difficulties come up, but not so much time that you're bored of the game," O'Dell said.
But despite all this advice, a virtual game night doesn't have to be over complicated, Forsgren said. It can be as simple as calling some friends, finding a game the group likes, and getting started.
"[Playing board games] gives me some sense of normalcy," Forsgren said. "I've done virtual game nights with my family and a group of friends. It gives us interactions that we're not getting in person and has helped me be less lonely. It's nice to be laughing and having a good time even without being together in person."