Cross country, track and everything in between
Cross country members discuss preseason training benefits, preparation for track and field
After completing the fall season of cross country, athletes are preparing for the track and field season by engaging in lighter training, sophomore Caleb Leung said. Despite the first meet being held Feb. 28 of next year, Leung said many students begin training now to get ahead. 
"Preseason training is important, so you can avoid starting out the season out of shape," Leung said. "It also helps you get accustomed to the training, so you won't be as likely to get injured during the season."
Additionally, training before the season allows athletes to reach the peak of their ability once the competitions start, junior Ido Ofek said.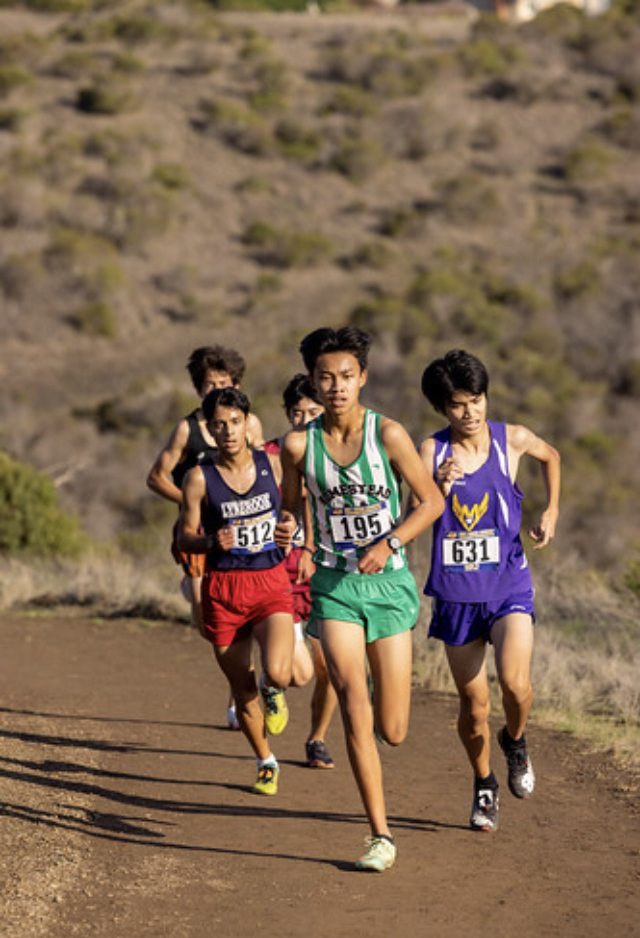 The team's current track and field, student-run preseason training routines have less mileage than usual, sophomore Sania Khanzode said.
"We're doing two to three miles every day," Khanzode said. "Once it gets to January, we'll start [official] preseason, so we'll be training a little bit harder."
When preseason in January starts, athletes will be running four to five miles a day, Ofek said. After getting injured in the past, Ofek said this is his first time doing preseason. 
"Without any preseason, you're going to get injured 100% of the time," Ofek said. "If you don't want to get injured, you have to do preseason."
Similarly, Khanzode said she regrets not doing preseason training in the past since it has negatively impacted her performance before.
"I didn't really run a lot before cross country started, so starting off running four or five miles every day was kind of tough," Khanzode said. "I'm making sure I don't make that mistake again."
The difference between people who train during the off-season and those who do not is clearly visible, Leung said. 
"People who don't train in the off-season usually hit their peak times towards the end of the season, then they take a break and they never get faster because they do that year after year and are stuck at the same barrier," Leung said. "This can lead to demotivation and discouragement."
Looking forward to the track and field season, Leung said out of several goals, one of them is to run a mile in under four minutes and thirty seconds. However, Leung said he is ultimately looking forward to his favorite part of cross country and track and field: the culture of the team.
"Everyone is there supporting one another," Leung said. "Your success is the team's success and when everyone succeeds, it leads to great things. It's really fun running with other people and you really get to know one and another on a deeper level."
Similarly to Leung, Ofek said his goal is to break a five-minute mile and see enhancement in his abilities.
"The best part about track and field and cross country is seeing the improvement that you make from day to day, from week to week," Ofek said. "That's what helps you keep going and motivates you to finish the season strong."