Determined to educate
FBLA's American enterprise project continues to promote social entrepreneurship awareness
The American enterprise project, hosted by FBLA, starts off strong going into 2022. This year-long project focuses on educating members and students about the newly emerging topic of social entrepreneurship, sophomore and project chair Chloe Lu said. 
In hopes of promoting ethical business practices and social enterprise, the project believes educating members about certain strategies they can implement into their lives will strongly benefit society, Lu said.
"Social entrepreneurship is very important as it sustains our local economy and generates positivity for the community," sophomore and project chair Krishna Mishra said. "If more people know about social entrepreneurship, they will be motivated to become a social entrepreneur themselves and shop more sustainably."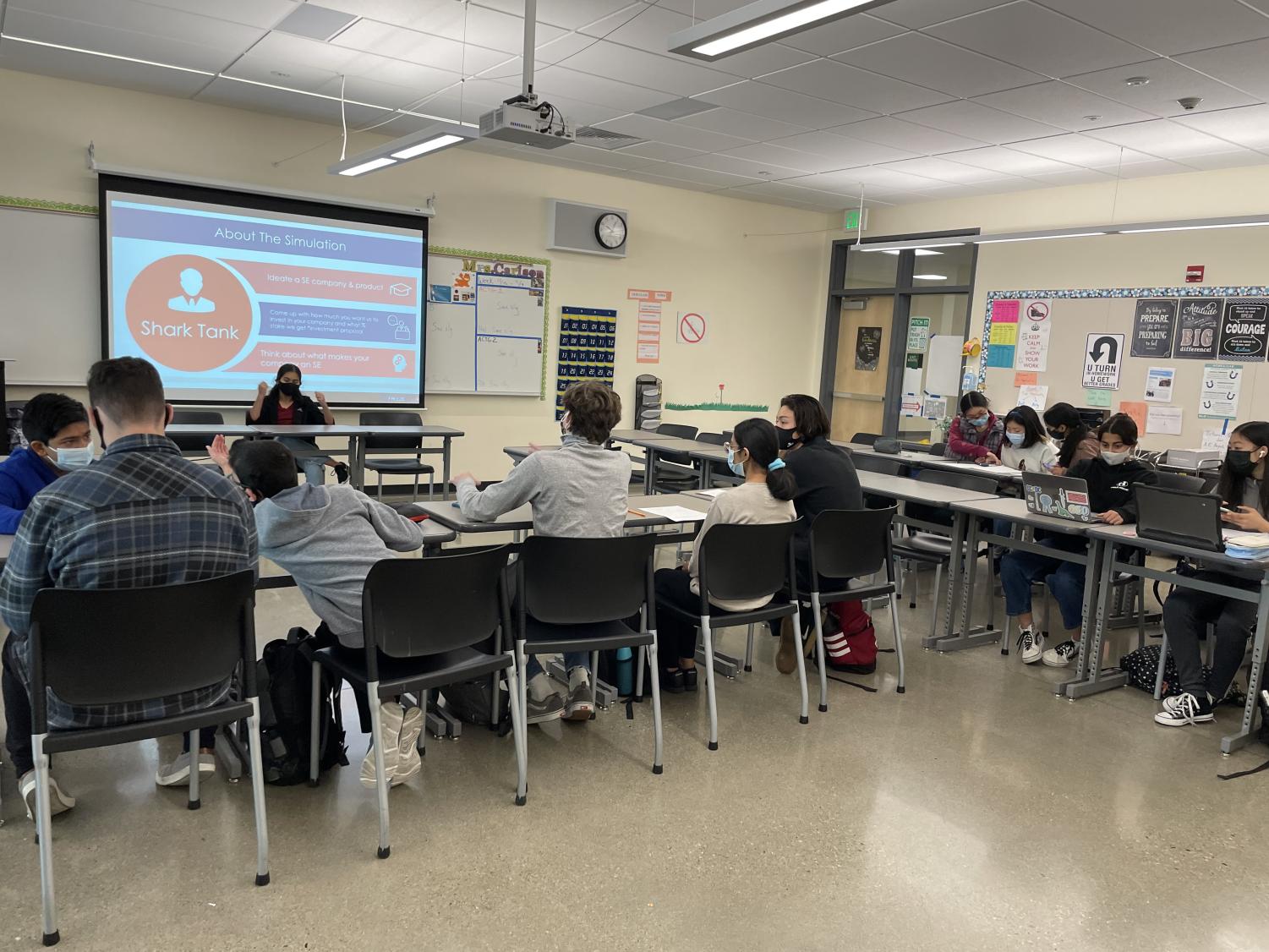 With hopeful intentions, the project aims to continue educating members on the current events that will in turn help students understand more about the benefits of shopping sustainably, Lu said. 
"Our goal is to promote knowledge about the free enterprise system among students and advertise the adverse effects of the pandemic on recovering social enterprises within the community," Lu said.
The American enterprise project has attracted the attention of many students, including senior Julie Wan due to her interest in the social enterprise career field. One of the many activities held during project meetings included allowing members to dive deeper into research case studies which Wan said she found intriguing to learn about.
"As someone who's making the conscious effort to support sustainable brands and research into whether I'm investing my money into companies that make positive impacts, I felt that joining FBLA management enterprise will be a step towards my personal goals," Wan said.
One way members have been actively working to reach the community is through social media. Using Instagram has allowed the project to create informational posts about social entrepreneurship to promote awareness to a wide audience, Wan said. 
"The American enterprise project is trying to make a tangible impact on the community with our social trend campaign on Instagram and promoting awareness for social entrepreneurship that will let more people know a brighter economy and future are possible," Lu said. 
As a member of the social media committee which is responsible for maintaining the Instagram page, Wan said she has had the chance to make real life connections and see the way social enterprises are continuously striving to improve.
"While researching examples of social enterprises, I was able to learn more about the footwear brand Toms," Wan said. "After reading criticism about their strategies, I realized that truly impactful social initiatives address systemic issues such as poverty, which is what causes shoelessness. As of 2021, they changed their model to address social issues in a better way." 
In addition to the social media campaign, the project has been working with three other organizations including the TCK Learning center, Discovery Shop, and Colors For Coats each offering different learning opportunities for members. These partnerships have allowed members to gain insight into official social enterprises and propose practices from gained experience with established businesses, Mishra said.
"TCK Learning Center focuses on generating economic good, the Discovery Shop generates social good, providing benefits to the public, and Colors For Coats generates environmental good," Lu said. "Having a well rounded set of partnerships will promote more economic sustainability as a whole." 
Overall, Wan said the project has greatly impacted her through the teachings of various types of skills and the great learning opportunities presented.
"You gain business knowledge, you meet new people, and you take your learning outside of the classroom, which is probably the most enjoyable part of the project," Wan said. "I can't wait to see what the American enterprise does with their project going forward this year."