mxmtoon' shares her growth, fosters community with "rising: the tour"
Together with Chloe Moriondo, mxmtoon creates memorable experience for audience in San Francisco
Blue. Green. Purple. All these brilliant colors illuminated the stage of the Regency Ballroom in San Francisco when I got to watch Maia perform. Known on stage as mxmtoon, she is famed for her breakout single "Prom Dress," written about her experience being let down by expectations about her senior year of high school.
All her songs touch the innermost sentiments shared among her fans, stemming from conflicts regarding romance and her sexuality, as well as tribulations relating to mental illness.
On tour with Chloe Moriondo, another indie-pop artist, the duo made a stop for two days in San Francisco, and I jumped at the opportunity to go. I went to the show on the second day, May 18, which was added at the last minute. Because of this, the crowd was only about a couple hundred people.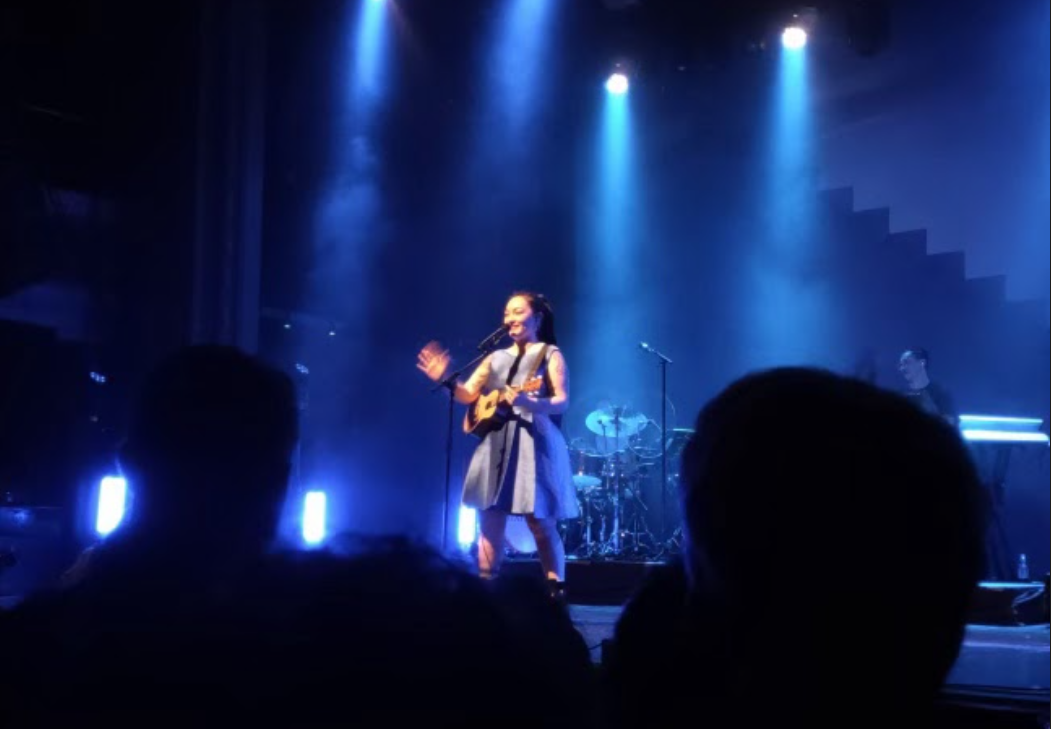 The audience size, which I was at first disappointed by, ended up being perfect. It was small enough that we could talk with mxmtoon and Moriondo when they were on stage, but big enough that we felt like a community.
I was one voice in a chorus of excited fans chanting lyrics we all knew by heart. I walked through a sea of dyed hair, saw the pride flag pins on everyone's shirts and felt at home. It was easy to strike up a conversation with the people around me, knowing we all had so much in common.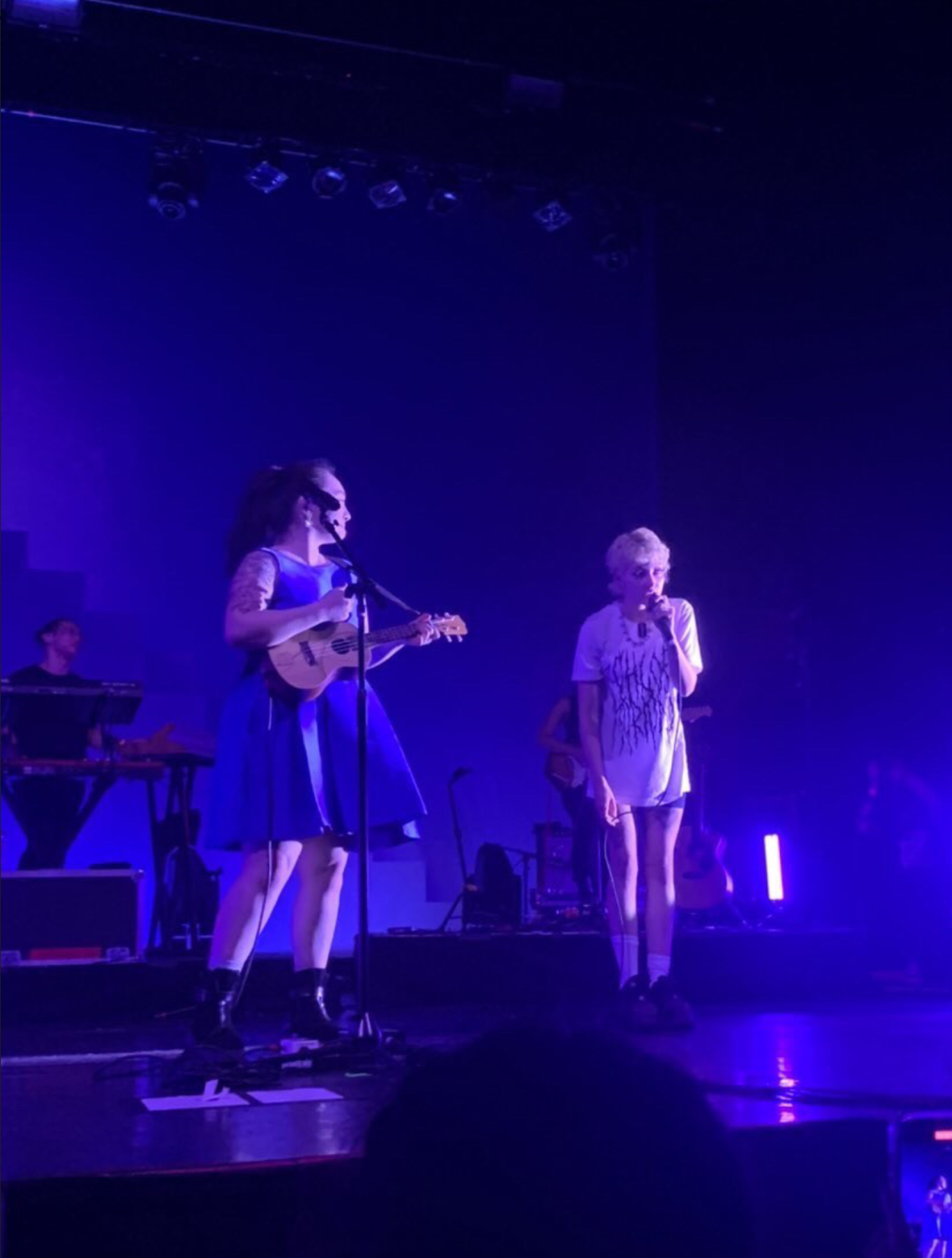 Moriondo performed first. When I saw her, memories came flooding back. I had grown up with her, watching her on YouTube when she was just a shy and insecure girl. She was open and honest with her small number of followers at the time about her struggles with her identity and mental health, not knowing where her life was going. 
Years later, she was on a stage right in front of me. She was finally singing her own songs to a cheering crowd with a confidence she had built up over the years. She had made it. I felt a small reassurance right then, that no matter where my life would lead, if I kept just doing what I enjoyed, I would be OK.
I felt so proud that I could take a part, though small, in Moriondo's journey. And she did not disappoint.
She was so charismatic and likable, the same person I remembered from all those YouTube videos. Her energy was contagious, making the entire venue as hyped as she was. Seeing her jam out to "Rly Don't Care" on the guitar was therapeutic. The crowd was joined together in yelling out the freeing lyrics. They were words we could all relate to: needing to let go of expectations and trying to be ourselves.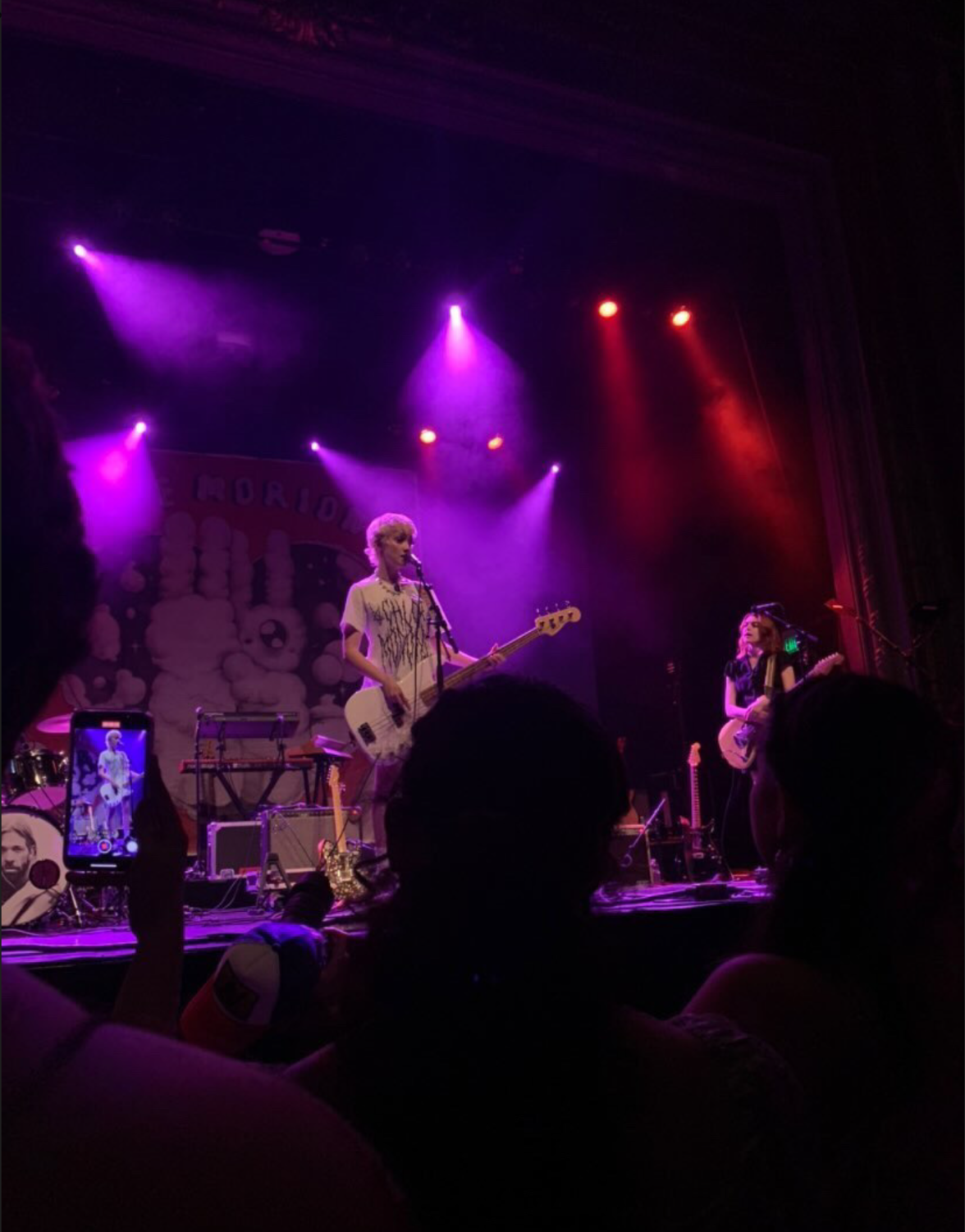 During intermission, we all dispersed, anticipating mxmtoon's appearance in the second half of the concert.
Then, all the lights dimmed. After a short yet restless intro, mxmtoon came out on stage and started the concert off with a jazzier version of "Falling for U," with her live band behind her. Being used to the studio version with its lo-fi ukulele feel, the new rendition read as a confession — more secure and assertive in the feelings it conveyed.
Mxmtoon's persona was captivating; when she winked at me, it felt as though my heart stopped for a moment — I was being legitimately acknowledged by someone who I admired so deeply. 
As the concert went on, mxmtoon talked about her experience coming from the Bay Area and her seasonal affective disorder, introducing her song "seasonal depression." 
The song effectively set a comforting tone which persisted throughout the concert. We might not be doing too great with mental health, and that was OK. I came to catch a break between stressful finals, and I got the perfect escape, complete with a reassurance that I was not alone.
After reminding the audience to pre-save her then-upcoming album "rising," which released on May 20, mxmtoon gave us sneak peeks of three of her new songs: "frown," "learn to love you" and "florida."
Despite the dismal-sounding title, "frown" was more upbeat than most other mxmtoon songs. The song is about negativity, but it neither glorifies nor condemns it. It instead acknowledges that it's there, and it is OK not to feel happy all the time. 
The concert then moved to "learn to love you," a song mxmtoon wrote reflecting on the expectations surrounding her and how she still found a way to accept herself. Backed by drums, keys and a guitar, mxmtoon sang that "once in a while / it feels like there's too much to prove / and that's why / you gotta learn to love you."
Going on to "florida," a song about mxmtoon's grandfather, the lyrics were solemn but joyful, and commemorated the time they spent together. Although it mourned the passing of time, the song did not fixate on it, instead opting to cherish the time she still has left with him.
As the only song from "rising" without a clear resolution, the song's contrast with the rest of the album is emphasized. I was at a loss for words when "florida" was performed live. 
The most impactful song of the concert was "no faker," a song mxmtoon said was about being unapologetically queer.
Specifically, "no faker" is about how mxmtoon came to terms with her identity. Mxmtoon said she hopes her concert spaces are a place in which queer teens and young adults can go to make friends and feel like they fit in, surrounded by a warm community.
Mxmtoon did exactly what she wanted, and as someone who feels as though I perpetually have to mask certain parts of my identity, I am grateful I had this opportunity to attend this concert and be surrounded by a community of people who feel like they truly understand. I am grateful that spaces like "rising: the tour" exist, because of the music and people that I get to interact with, even when the show is over.
I encourage anyone who is reading this far to find your space and your crowd. If you are not quite sure where you fit in, try things out to get a feel for it. If it is not for you, that is totally okay — it is part of the process, and you can find a different space. But when you do find your community, stick with them — you will learn and grow with them, hopefully making friends along the way.