As the courts come alive with the renewed energy of a new season, players gear up to welcome their new coach: Jackie Lam. With prior experience and a different perspective, she hopes to strengthen the varsity girls tennis team, Lam said. 
Tennis player Ciara Begley, a junior, said she has been a good, productive coach so far.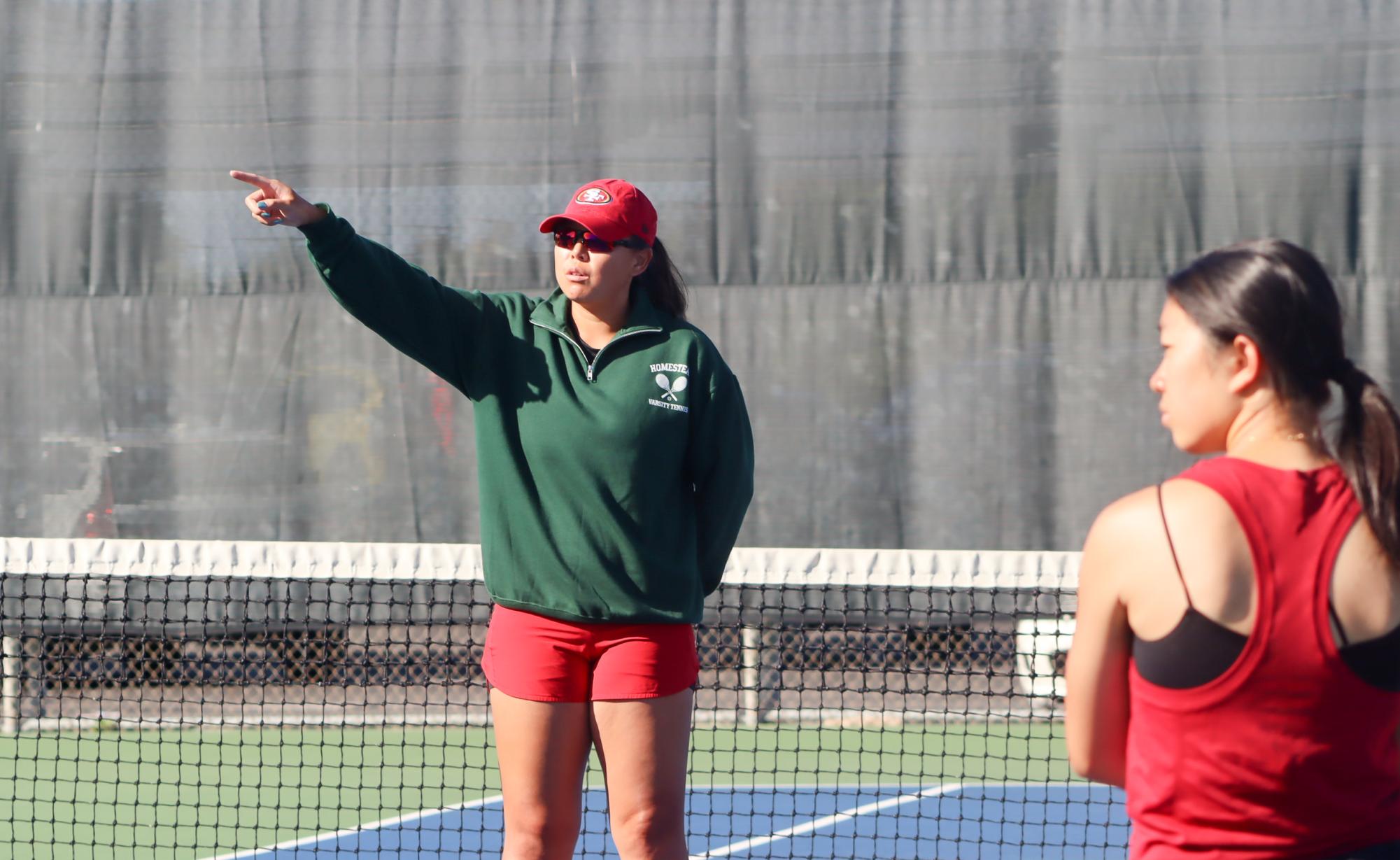 "She takes her job seriously," Begley said. "She knows what she wants out of us and how to get it out of us. Practices are a lot of strict play and focusing on what we want to implement during our games. We do a lot of drills to practice certain shots and work on strategy-type stuff."
Previously involved in the military, Lam initially used methods from that background, such as negative reinforcement, Lam said. 
"I was used to negative reinforcement [in the military]," Lam said. "I tried doing that with the girls, but they didn't really respond well to that. [So] I  tried to give them compliments and tell them to think positively, and that helped boost their confidence."
Freshman tennis player Poorva Khambekar said Lam is helpful and positive, especially during games. 
"When you're doing something wrong, she always finds a way to help you or find something that you can improve on," Khambekar said. "She also pumps us up, by cheering and clapping whenever there's a really good point. And, when we're down, she comes onto the court and she gives us a little pep talk and tells us to keep our heads up and keep playing."
Lam said she envisions the varsity girls tennis team to be a positive and supportive environment for her players but also wants to instill fierceness in them because confidence is key in a sport like tennis. 
Coaching girls tennis has allowed her to relive her own experiences as a varsity tennis athlete during her high school career, Lam said. 
"I wanted to coach girls, specifically, because I feel they are more open with me than they would be with a male coach," Lam said. "Being the only female coach in the league is really an honor."
Lam said she hopes to take an active coaching role and motivate her players to think strategically while facing tough teams. Part of achieving this goal means that she actively guides players through games and even plays with them, Lam said.
"I've had a lot of coaches [who] stand on the side and talk but are not really engaged, so I always try my best to be more active in giving advice," Lam said. "I still play a lot [of tennis] myself, and I feel having a younger coach is definitely [helpful] to the girls."
Junior Thien-Mai Vu said that Lam's coaching style differs from the varsity coach last year. 
"Our last coach didn't show us new tactics and skill sets, but [Lam] does," Vu said.
For Lam, the key to improvement in tennis is being able to recover from defeats and being hit.
"To really improve in tennis, you just gotta get up there on the court on a regular basis," Lam said. "If you don't keep playing, you can get rusty and lose the feeling. Tennis is all about consistency and the mentality."