Individual but united
Girls varsity tennis team expresses sense of community and passion for the sport.
Tennis is often seen as a no-contact sport with a small number of players on court, but the girls varsity tennis team understands the sport's complexity, and the bond they share with the sport and each other is strong and long-lasting. Tennis is actually one-of-a-kind because of the hard work and focus needed from the players, girls varsity tennis coach Micheal Leopold said. 
"Tennis is like playing chess: we have to have all the moves in terms of physicality, stroke production and speed," Leopold said. "The whole team does individual tactics in each match. It's like watching seven different chess matches at a time." 
Although tennis can seem like a mainly individual sport, the team maintains a strong sense of community, senior Coline Gingembre said.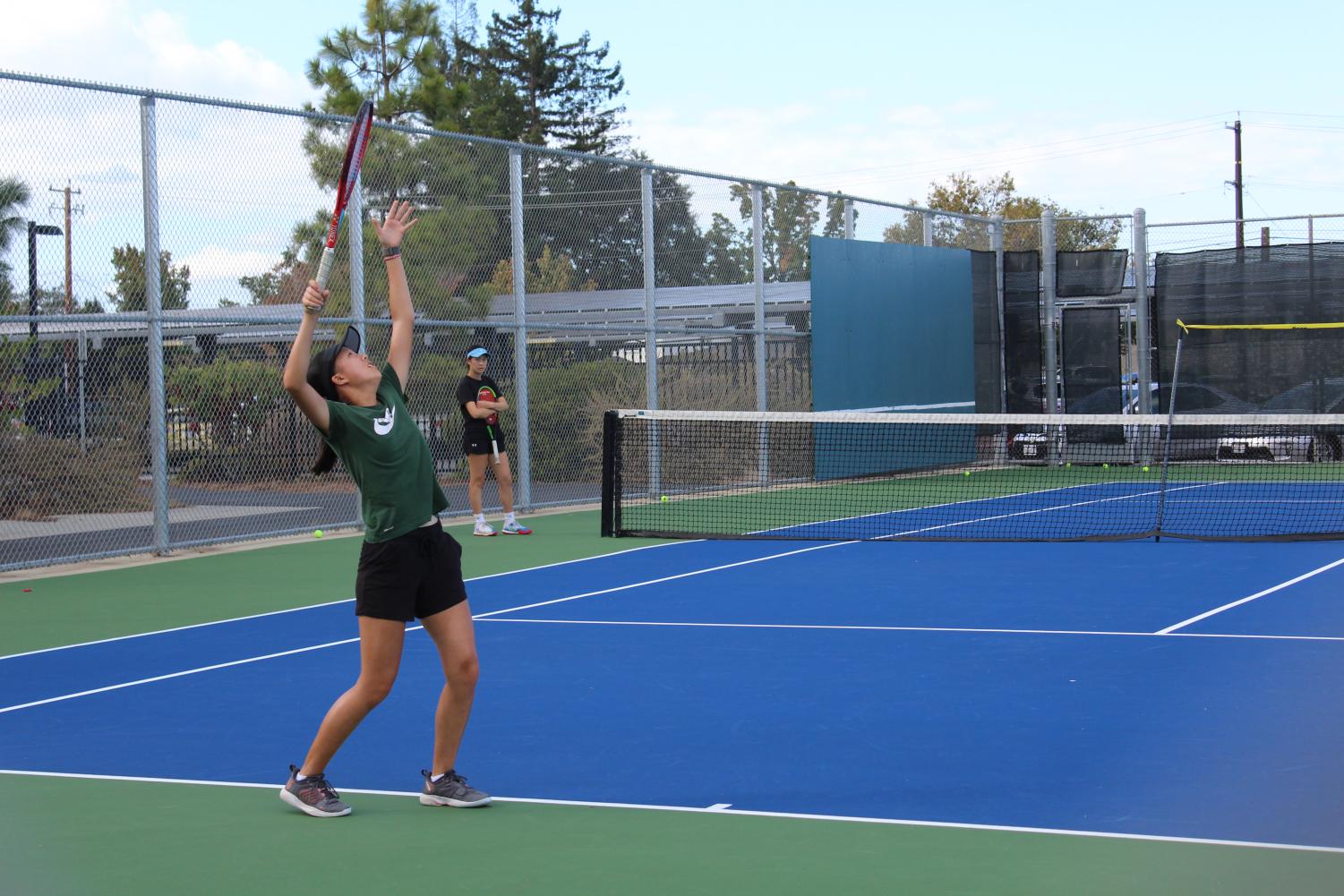 "The community and the feeling after the match where everyone comes together is really powerful," Gingembre said. "You're able to bond and everyone's really supportive of each other."
Leopold said the team is bonded by their shared passion for the sport, which extends outside of the campus.
"The team  continues to develop skills not just in practices every day, but a lot of them – especially the more determined ones – are also putting in an extra two to three days," Leopold said. 
Tennis can be stressful, especially because of the pressures of playing as an individual. However, Gingembre said the supportive tennis community helps her and the team overcome the intensity.
"Playing can get pretty lonely because you don't have someone next to you. You're sometimes hard on yourself and you put a lot of pressure on yourself," said Gingembre. "But what I love about doubles is that if you're not 100% that day because you have personal stuff going on, your partner is there for you and can make up for that."
Sophomore, player, Thien-Mai Vu said the encouragement from her teammates is what turns a potentially isolating match into a joint achievement.
"A lot of people say that tennis is the loneliest sport that you can play because you're all by yourself on a court," Vu said. "But that's not really true  because you have so many amazing teammates that support you and cheer for you. They will watch your game through to the end, even if it takes three hours to get it done."