Leaping towards success
Track and field jumper, runner reflects on her time participating in the sport.
As the track and field season comes to a close for track athlete, senior Mathilde Bride, Bride said the season has been a three year journey in the making. Her primary events are the jumping events, including high jump, long jump and triple jump, though this year she has also taken on the 400-meter relay.
"It keeps me active and I've met some really awesome people that are some of my closest friends," Bridge said. "It brings me joy. I think a lot of people think [track and field] is hard, or at least the running events. I'm not saying it's not, and it does take a lot of hard work and dedication as you need to really be willing to put in the work, but I think it does pay off."
Due to the diverse category of events that fall under the "track and field" label, Bride said she found the sport to be accessible to all students.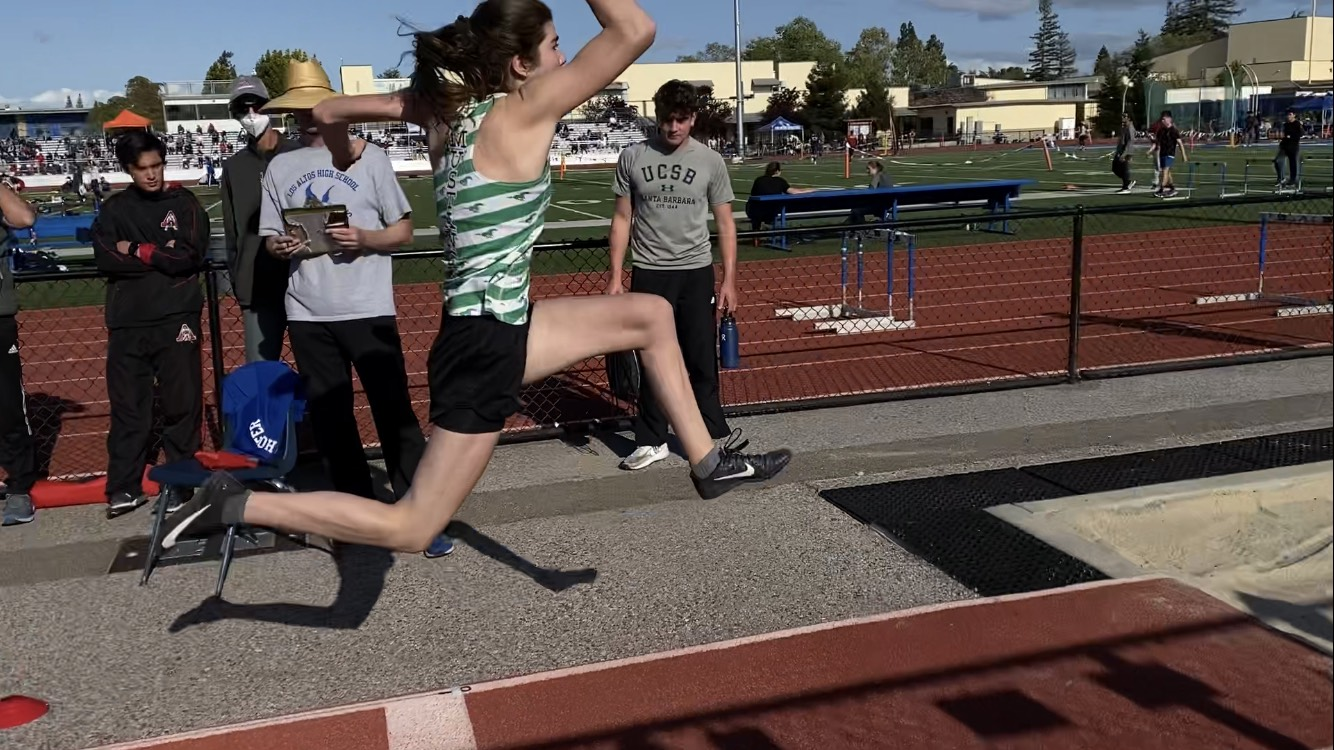 "You don't need to have special skills [to join this encouraging sport]," Bride said. "[Track and field] has really good energy as everyone is so encouraging at meets. Every time, we're the ones that scream the loudest for a team and it's really nice."
Although track and field is not academic by nature, Bride said she enjoyed being able to apply the principles of the sport to other areas of school such as physics. 
"My coach really likes physics, so he uses it a lot in his explanations," Bride said. "Sometimes when the teacher says something, I [think] 'oh my god, I learned about that during practice  the other day,' and it helps put context to things that I've learned in class and vice versa."
In terms of time commitment, track and field requires dedication as meets can often run longer than six hours, Bride said. Therefore, it is important to strive for the right work-life balance and be conscious of one's body since injuries are common. 
"Time management and knowing how to take care of yourself [is necessary] because you can get injured," Bride said. "You need to know when your body wants you to shut down and that doesn't necessarily coincide with what the trainers have planned."
Even with all the challenges faced along the way, Bride said she is extremely grateful to have been a part of the team. 
"There were times where I wanted to give up and I didn't, and I'm glad I didn't," Bride said. "You learn how to be determined and then you realize that okay, this is fine. Obviously, it takes a lot of my time, I don't have as much time to do other things that I also enjoy, but I am glad I did it for the three years I [was in high school]."