The highs and lows of Scream Team
Scream Team looks to improve school spirit, share their hopes for the future
Scream Team is entering this school year with new goals and changes to make for a more spirited, excited and loud student section.
For students, cheering in the stands and supporting the football team makes for a memorable experience. But for the past few years, it hasn't been that way, senior Anya Agrawal said.
"I think the COVID year was a little bit hard because obviously nothing happened," she said. "Junior year I tried to get a little bit more involved but there was not much hype because there were a lot of restrictions."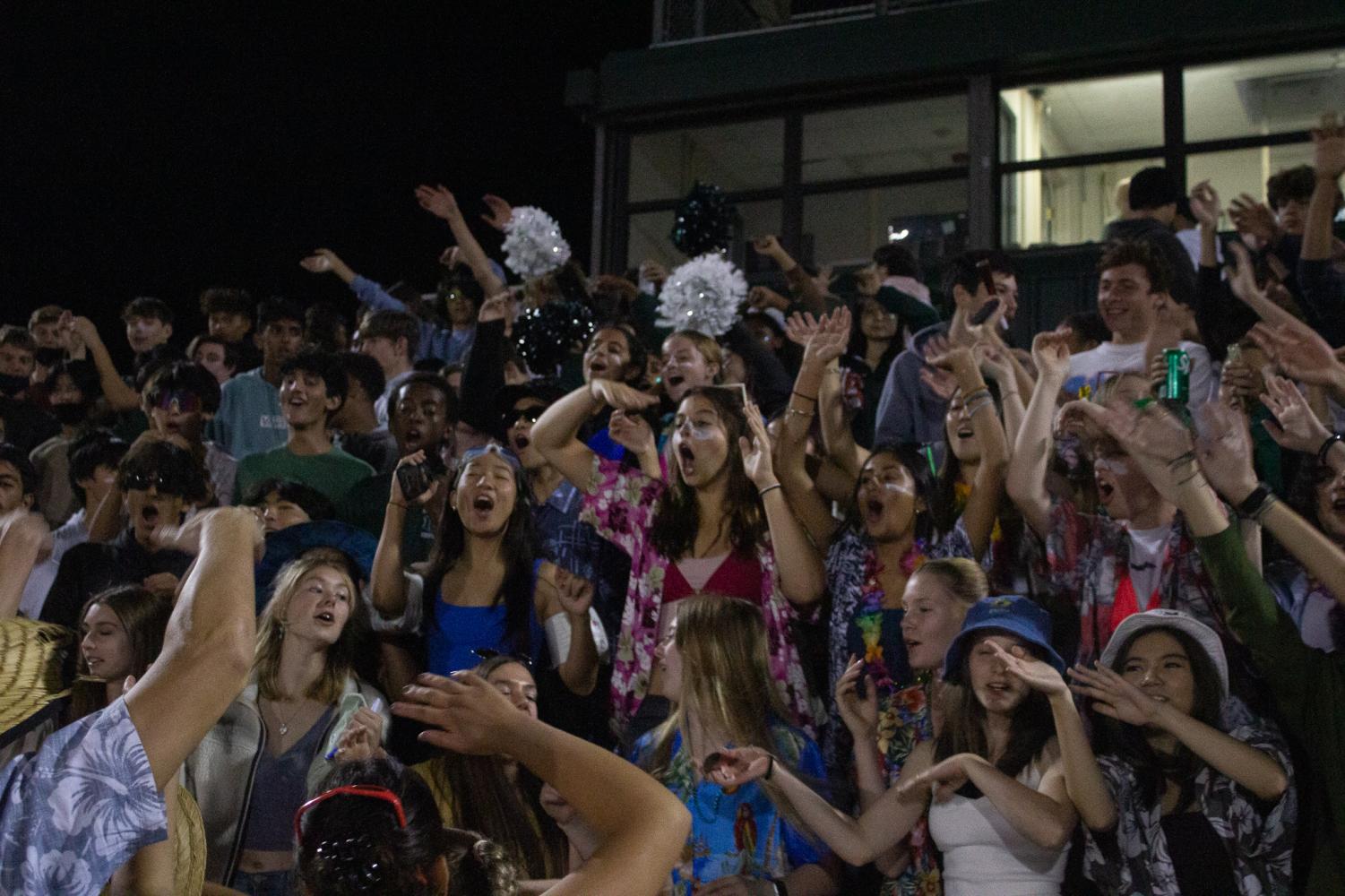 This sentiment was supported by senior Chloe Dupin, an active leader of Scream Team.
Dupin said last year was tough because they were coming into the school year with no spirit and that improving student section participation after last year is a goal she strives towards.
"I think we're gonna really try to rile everyone up and add some creative aspects to it, as well as get people to see the (Scream Team) Instagram," Dupin said. "Getting the information out there is something that we're going to try to do."
Many students enjoy the lively environment of being in the student section. They credit the Scream Team for being able to energize all the students while also cheering the athletes on. Junior Libi Lapede said she sees the benefit in the Scream Team for the students and players alike.
"I think for athletes, [having a student section] can definitely feel like there's a lot of support and that there's someone cheering them on even when they're not playing well," Lapede said. "And for students, it helps bond them to the sports and get them more involved in Student Activities."
However, student concerns have arisen in regards to the inequitable spread of Scream Team attendance to the games of various sports teams. Agrawal said she feels like the Scream Team tends to attend their friends' sporting events, rather than a diverse group of all sports. In addition, Lapede said she believes this issue unfairly hurts the non-football sports teams.
"Other sports definitely deserve the same amount of support that the football team does … and they would love some extra cheering on," Lapede said.
Dupin said this is an issue they definitely plan on improving by encouraging sports players from teams that they have not frequented as much to reach out to them for Instagram promotions
With the school year just beginning, Scream Team will have many opportunities to improve school spirit and attendance. Agrawal, who attended the first home football game of the year, said improvements from last year have already begun. 
"I'm so glad that everything is back to how it was freshman year," Agrawal said. "The hype is up, the cheers are up, the color, the spirit and everything is a lot better."