Students can enjoy an abundance of freedom, whether it is walking to the 7/11 down the street or engaging in activities that extend late into the night. Although freedoms are often seen as liberty, we should be aware of our ability to use our phones at all times. We, myself included, tend to resort to what we are comfortable with rather than enjoy the opportunities around us.
When I entered high school, I was thrilled to have the freedom to carry my phone. This contrasted with the no-phone policy my middle school teachers enforced, leading to built-up feelings of resentment because it seemed like there was a lack of trust between students and teachers.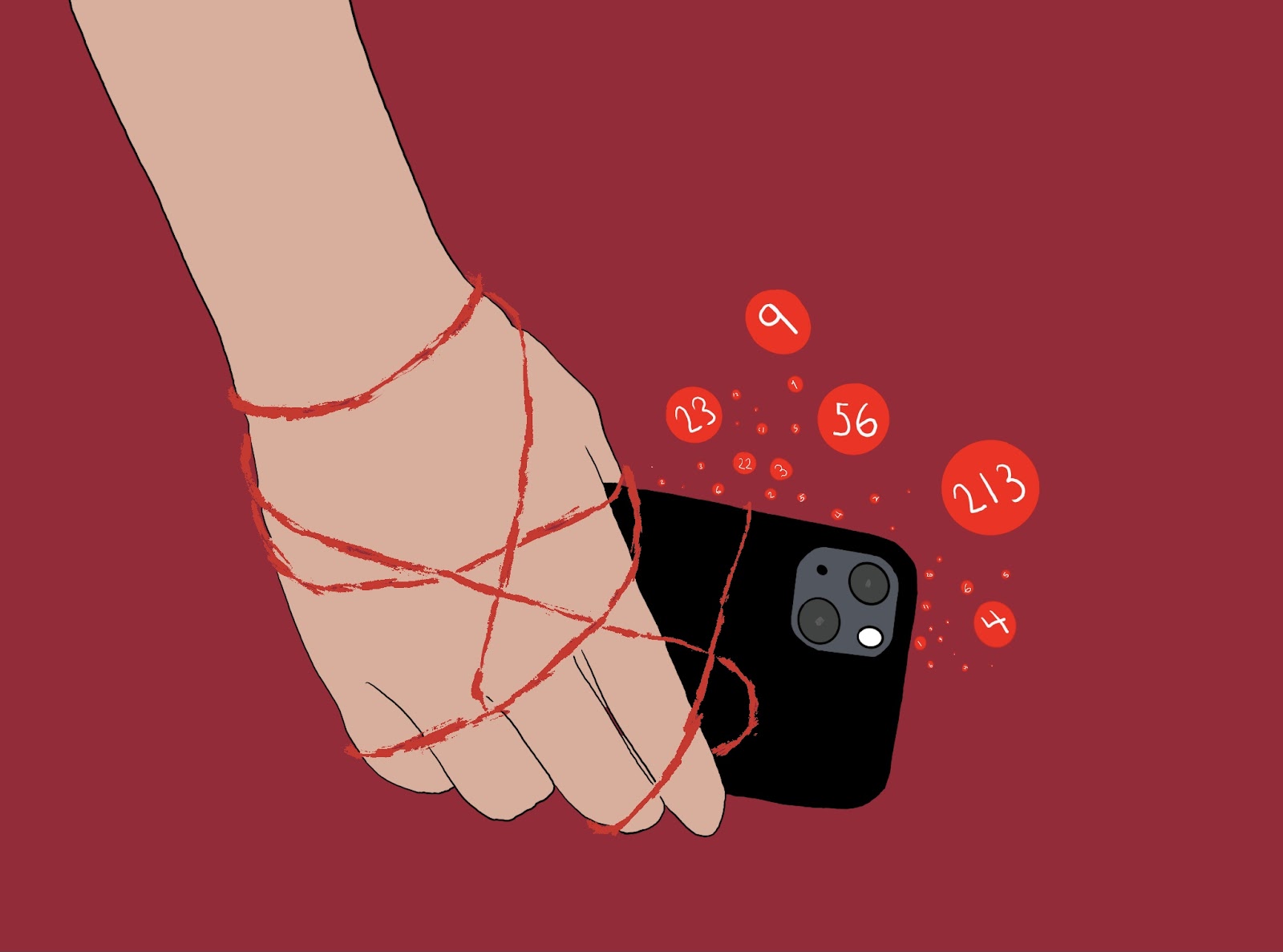 My phone is a tool for connecting with my friend group, especially when I have last-minute plans. Phones also enhance our access to the internet, making them an essential part of our lives to answer any question in our mind and to entertain us. 
Despite our phone's conveniences, they can trap us in our own world. With this technology comes Instagram, TikTok, Snapchat and a multitude of other social media available in our app stores. 
Just by glancing around the school campus, you can probably see a student engrossed in their phone — scrolling through different videos and posts. In fact, a survey by K-12 Dive found that 97% of 11-17-year-olds use their phones during the school day.
However, when we are out in public, we should strive to minimize the screen time on our phones as much as possible because we have ample access to our phones at home. Usage in public should only be necessary for uses like checking the time or an assignment in school.
It strikes me as ironic when people prioritize social media over the company of those around them. In many of my classes, I sit with people I have never met before. Instead of getting to know each other, my fellow tablemates were on their phones, checking on distant friends or the celebrities they followed. 
Despite my attempts to initiate a conversation, I felt pushed off as the clicks on their screens pushed me into a corner. This dynamic set up an uncomfortable learning environment and hindered the formation of new friendships.
The problem with phones in school extends to more than making friendships: it affects the sole purpose of dedicating the hours we spend each week in school. Phones keep us out of task and even when multitasking comes up, the ability to further absorb material is not maximized because it affects a child's ability to learn effectively, according to Common Sense Media. 
This fact is especially concerning when the constant presence of a phone leads to addiction. Moreover, 78% of teens check their phones at least every hour and 72% feel an urge to respond to notifications, according to Key Healthcare.
As a student, I too feel the pull of the notifications from my phone. Although it is not beneficial to us, we must do our best to counteract this temptation to fully maximize the knowledge we gain in, and out of school.
Specifically, social media platforms give us more reason to check our phones. They are designed to expand our social circle, but they do more harm than good. Addiction can arise and platforms can be a place for bullying to occur, according to Columbia University Irving Medical Center.
Social media was created for a reason: to make fast, digital connections. However, when potential friendships are presented to us on a silver platter, we should take the opportunity to strike up a conversation. What is the point of social media if the only social aspect of our lives is the screens before us?
In a world where phones follow us like the clothes we wear, we can try to minimize their involvement, starting within the school environment. We should all step away from our screens and enjoy the fresh air or make new connections. Regardless of whether these values align with more traditional perspectives, they will benefit us in the long run.