Girls varsity tennis defeated in CCS
The girls tennis season ends with a loss in the second round of CCS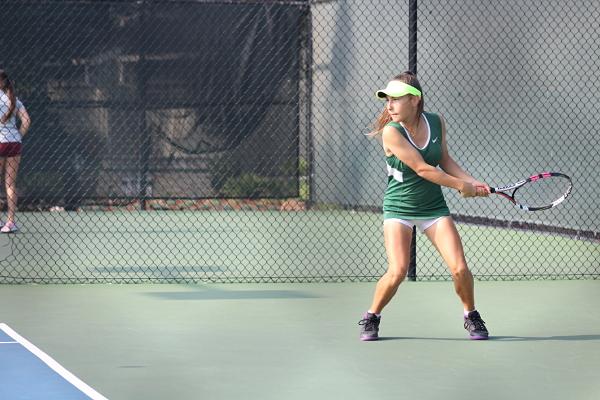 As the fall sports teams competed in the Central Coast Sectionals (CCS), three key players from the varsity girls tennis team were sent to compete in the competition at the Los Gatos Bay Club on Nov. 23.
Competitors first played in the Santa Clara Valley Athletics League (SCVAL) competition, in which two singles and two doubles teams played against other high school teams in the league.
Freshmen Zoe Clydesdale-Eberle, Jozephine Yen and Ashna Reddy, sophomore Natalie Tarn as well as seniors Alisha Parikh and Paniz Hadjian all competed in the SCVAL competition on Nov. 4. Clydesdale-Eberle won third place in the singles tournament and the team of Reddy and Parikh won third place in doubles.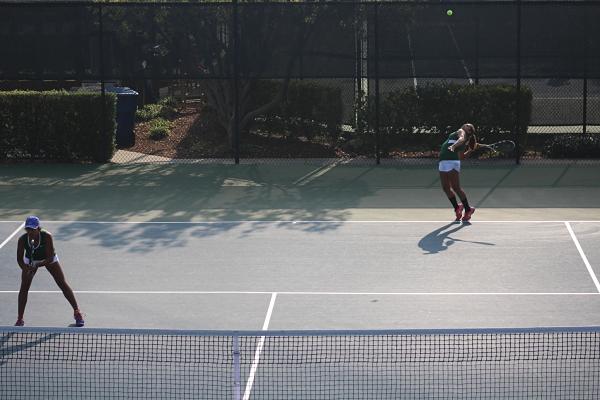 "I liked playing doubles … it was fun to play with someone else on the court on my side," Reddy said. "We got to talk about game plans and encouraged each other after each game point."
Parikh and Reddy both played extremely well for a pair not having played together before, Bogenholm said. Their ongoing support and encouragement for each other led them to the CCS competition on Nov. 23.
Both Clydesdale-Eberle and the Reddy and Parikh team advanced from the first round of CCS. Clydesdale-Eberle won 6-1 on her first set and 6-1 on her second set against a player from Pacific Grove High School. The doubles team won 6-2 in the first set and 6-1 the second set against a team from Menlo High School.
The second round of CCS occurred on the same day. Although the players said they put a lot of effort into their games, both Clydesdale-Eberle and the Reddy and Parikh team lost in the second round.
Going into the match, Clydesdale-Eberle said she knew the competition would be tough and that she would have to play her best to win both rounds on the first day to continue to the final round on the second day.
"I knew what I was going to do and what level it was it," she said, losing 6-1 in both sets to a player from Menlo High School. "I know I could've done better the second round, though."
The doubles team fought their way through the second round, playing a total of three sets. Though they won the second set, they ended up losing with scores of 0-6, 6-2, 3-6 in the three sets, respectively.
Though the singles player and the doubles team ended up losing in CCS, they advanced farther as a team than last year, when the team did not even qualify for CCS.