As the holiday season begins to roll in, Santa Clara County prepares to light up the night sky with colorful Christmas trees and attractions. Choir students will join fellow community members in performing at the Quinlan Community Center on Dec. 1, choir teacher Jeff Morton said.
"The festival [has] its own charm and memorability," Morton said. "The ceremony gives students a chance to reconnect with the holiday spirit, and is a step back where the students can relax a little bit."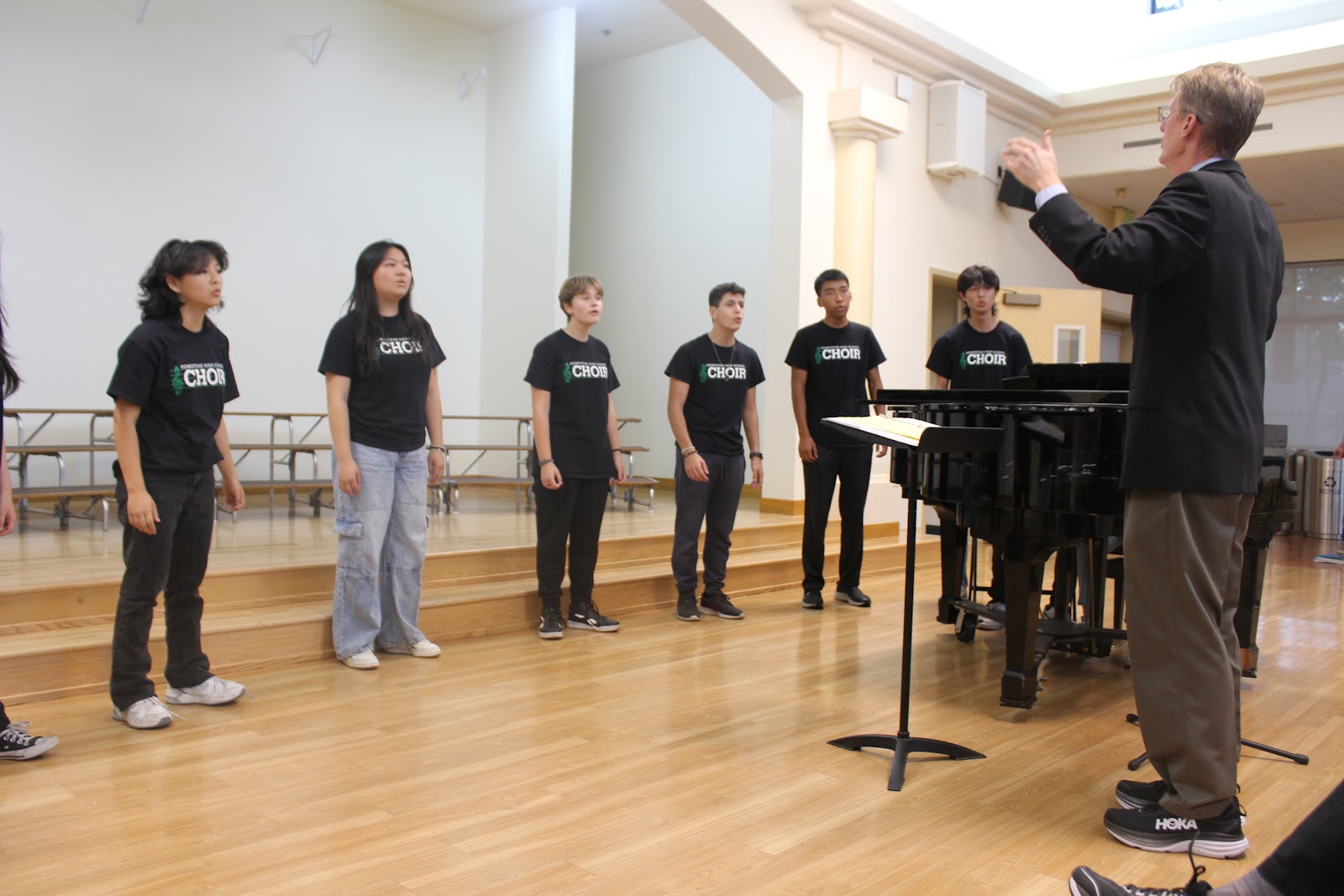 Choir student, sophomore Ashna Yadav said she is looking forward to this occasion, as it was a great experience last year. The ceremony will be memorable since students perform in front of a large audience and listeners love the songs, she added.
"The audience at the Cupertino Tree Lighting ceremony is generally very supportive and the ceremony is a great chance for students new to the choir to deal with stage fright," Yadav said.
Choir student, senior Sylvia St. Georges said the ceremony will be a unique event compared to general school concerts.
"It's a very fun event and more members of the greater Cupertino community are there instead of just HHS families, so we get more community involvement," St. Georges said. 
The choir will perform songs tied to a common theme of the holiday season. These are always selected from a repeated packet of holiday music, but because students can get bored with repeated songs, there are new ones added this year, Morton said.
In addition, Morton said he plans on changing the format of the performance to allow for different groups and separate performances. The ceremony has previously focused on singing along with other schools, which prevents groups from learning and showcasing unique pieces they're proud to perform, Morton added.
Yadav said the performance this year includes more pieces, as they have a full choir this year compared to the single choir last year.
As they prepare, students are facing challenges: beginning choir is overwhelmed and the advanced and beginner singers are not coordinating, Morton said.
"I try to make the music largely approachable by both the advanced and beginner students," Morton said. "It's important for students to understand that if they have a bad performance in one place, that's not going to hover over them."
Morton said he hopes students from the advanced choir will support the beginner choir and make them feel welcome. 
St. Georges said she has noticed difficulties in preparation. It was difficult for the beginning choir to lead sectionals properly and get everyone in the overall choir to learn their part, St. Georges added.
"Even though we have limited space, we work through it as a section," St. Georges said. "[The experience] helps you get closer to a lot of other people."
Although some students struggled to perform in front of a large audience in rehearsal, Yadav said she hopes the ceremony would be an incredible experience for both students and the audience. 
"I hope that we perform the songs well, the audience enjoys them, and we just have a good time," Yadav said. "The ceremony is always very memorable. When a song comes together at the end and it sounds good, it just gives you a feeling of satisfaction knowing that all of your hard work paid off."