Lack of spirit
Minimal participation from students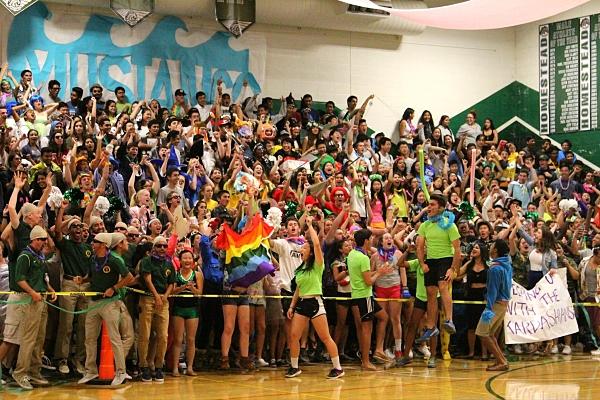 When you read the headline, you probably thought the same thing. Regardless of your opinion on our school spirit, it is quite evident the student body lacks a quality amount of school spirit.
I'm not talking about the kind of spirit that measures how loud each class can cheer at the rallies, or the kind of spirit shown in cheer-offs – yes, we excel at that – I'm talking about the kind of spirit we lack in terms of student participation during spirit weeks and school events.
Sure, some students are spirited, but it seems the seniors are the only ones who truly show their enthusiasm at school events. What about the other classes?
One may argue that since senior year is the last year in high school, it makes sense for them to make the most of their final year by giving it their all and actively participating in school events. However, when it comes to the other classes, most fail to display an equivalent level of spirit and participation. Maybe because they think, "well, the seniors always win anyway, so whatever."
This is the wrong mindset.
In order for a school to be spirited and united, all students should show the same amount of spirit by actively participating in school events. Even something as simple as wearing the color of your class during Battle of the Classes is a great way to participate and show your spirit.
But for the past two years I have been at Homestead, a vast majority of the people just show up in their everyday attire during spirit weeks. You may not realize it, but it's the little things such as dressing up that can really enhance an experience and make everything feel much more vivid.
For example, when I went to the IDC exchange last year as a sophomore, I was able to experience another school's spirit when I stood amongst the students in the stands during Lynbrook's Blacklight Rally.
Even though it was just a simple rally, every student, regardless of grade level, showed an enormous amount of spirit. Everyone was decked out in their white shirts, shorts, socks, paint on their faces, glow sticks, pom-poms, you name it. I was amazed with the amount of spirit shown. Everyone looked like they were having the time of their life and they truly seemed united as a school. After my experience as a Viking, returning to Homestead felt dull.
What really holds us back in terms of spirit is participation. Most importantly, you, as part of the student body, should want to have fun. Though this concept seems rather simple, there is much more to it than just enjoying yourself. If you want to have fun, then you must be willing to contribute to events.
For all of you out there who complain and say that our events are lame or boring, have you ever thought why? Because we lack participation. You need to realize that for any task you will encounter in the future, the best results don't occur unless you put all your effort into it. The same goes for school-wide events. Show the student body that you care by participating. Get your friends to dress up and match outfits with you. Take a break from homework and chat up your friends about what you plan to do.
Perhaps leadership can discuss about taking different approaches to planning the rallies by adding more variety. Instead of sticking to the banal Aloha theme every year, there are many other creative themes leadership can use that could excite students and brighten up their spirit.
With all the events we have ahead of us, there will be more room for you to help improve the school's overall spirit. Dress up, participate in the rallies, volunteer to be a part of the games or dances and what not. This is your chance to shine and to show others that we are as spirited as other schools.