From my POV: Being a human Etch-A-Sketch
The search for control over my sensitive skin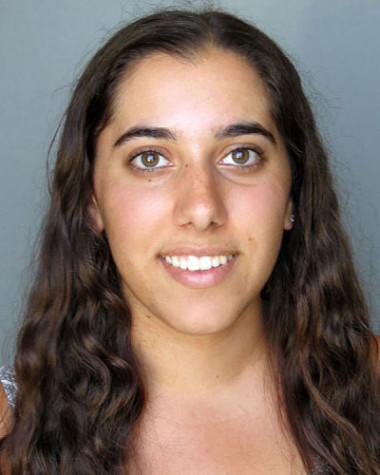 For many children, going for a swim during a hot summer day is a normal activity. For someone who
struggles with sensitive skin, like myself, the consequence of going into a chlorine-filled pool is annoying dry and itchy skin.
Growing up, I always knew I had sensitive skin and often encountered products that would cause an allergic reaction, which meant itchiness, blemishes or rashes. Even the simple act of going for a swim fostered a routine: get out, run to the shower, scrub myself with sensitive-skin Dove soap and apply skin-relief Aveeno bath oil all over myself to lessen the itchiness.
When I was about 10 years old, I went to a dermatologist who confirmed I had a skin condition called dermographism urticaria, in which the slightest scuff causes inflamed, irritated blemishes to appear on my skin. Simply, this means I can scratch or write on my skin with a rough object, such as the end of a pen, and raised, red marks will appear and subside within 20 minutes.
I am often asked why I might have red lines somewhere on my body, which makes me insecure about having no control over my skin.
Undoubtedly, other students can relate to having no regulation over some aspect of their body. The important idea is for students to figure out how to take control of any insecurity.
Being diagnosed with the condition helped me better understand my sensitive skin problems and made the responsibility to take care of my skin much more real.
As for my condition, the doctor first gave me prescription medicine to limit my irritation, and I eventually switched to over-the-counter antihistamines, such as Zyrtec and Allegra. After taking these pills for so many years, my body has adapted to the medicine, and I cannot go through the day without it.
If I forget to take my medicine, I can immediately tell after the 24-hour pill wears off since I begin to itch and feel like a cactus is prodding me from the inside. Taking my medicine has become a part of my daily routine, as well as the use of other products I have found to be the least harmful to my skin.
In terms of acne treatment and moisturizers, I have enjoyed brands like Clean & Clear, bareMinerals and Burt's Bees, which are extremely light on my skin and cause little irritation.
These products are much more expensive than other brands with interesting scents, but they are definitely worth the cost since I can feel good about using them.
I recommend that students who suffer from sensitive skin go to a dermatologist to figure out which medications can help them have healthier skin. It is also great to experiment with different products to determine which ones make students feel confident about their skin.
Eliminating a teenager's insecurities seems like an impossible task, and so is finding a solution to sensitive skin. But for some, a huge difference can be made by simply finding the right skin routines or visiting a doctor.
It is a relief to have reached a point in my life where I can have control over my skin while dealing with my dermatographia, which is a satisfactory feeling I hope other students with skin problems can eventually have as well.