Prepping for the win
A profile of a runner on the track and field team, Elena Kamas.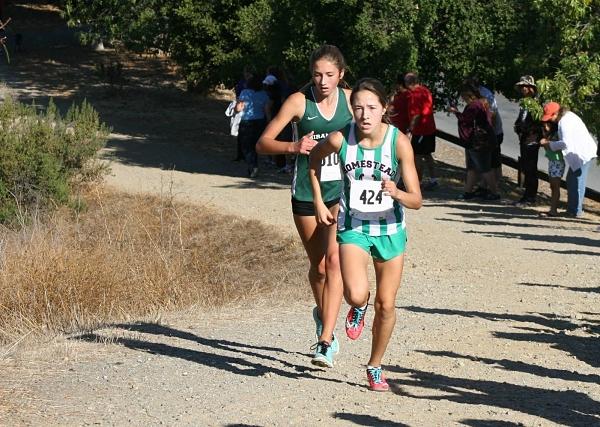 Though the track and field season has not started yet, runners have already started training in the  preseason.
Sophomore Elena Kamas has run for cross country the past two years and was part of the track team last year. In her past season of cross country, Elena won the individual title in the Santa Clara Valley Athletic League with a new school record of 17:47.4, which beat a record set 38 years ago by 21 seconds on the Crystal Springs fable cross country course, according to the HHS athletic booster website.
Not only a great runner, Kamas also displayed a prowess never seen before during last year's track season. Kamas became the first female runner at Homestead to advance to the CIF State Championships and placed third overall. She currently holds the record for the 1600 m at 4:58.33.
"Cross Country and Track are similar for me because in track I am on the long distance team so the workouts are pretty similar," Kamas said.
Though there has been a time difference between the Cross Country and Track season, Cross Country has helped Kamas prepare for the Track season.
"Cross Country helps with track physically, obviously, but being used to running in races of one hundred plus athletes takes the edge off of competing in track meet," Kamas said.
Kamas started to run for her cross country team in middle school and has had a passion for running since then.
In total, Kamas runs around six days a week, either with her team or by herself. Kamas runs the 800 m and 1600 m during the track season but may look to do the two-mile in the future, as she is a long-distance runner.
For preseason, the team does drills three days a week and runs around four or five miles on the other days, said Kamas.
"Preseason is very important because it helps maintain in off season," Kamas said.
Kamas believes that if anyone loves to run, they should join track and field and take part in the preseason.