Izzy Talk: girls volleyball makes it to CCS
The girls' volleyball team this year went to CCS as the three seed in the division 1 bracket.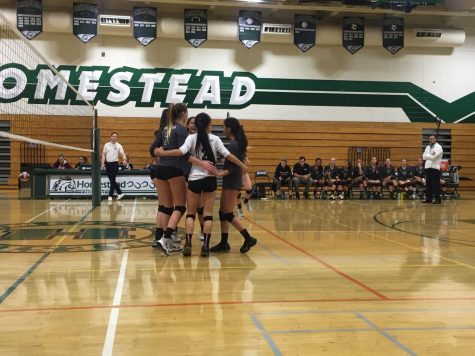 Their overall record to end the season was 7-7 and the last loss was a upset and heartbreaker. On Sat. the team played against the sixth seed LGHS in the quarterfinals of CCS.
They lost in the final and close set letting the wildcats proceed to the semifinals to now play against San Benito High school.
Even though the team lost in their first game in CCS that loss does not define the team at all; this team is one that will never get on each other over stupid mistakes instead they will say it's okay we'll get the next one.
That sense of camaraderie is what makes this team a great one. If junior Kelsey Van Horne makes a mistake and the opposing team gains a point, the team huddles for a second and in the next play Van Horne gets that point back because she promised her team she would.
The work ethic of this team is very visible to anyone who has watched any of their games this season.
Sophomores Paige Bensing and Sara Olsson are key players that make the team so good that they do not show their inexperience of being on the team for only two years.
And key player Katelyn Zhang was set up by her teammates to spike the ball every single time she was on the court, Zhang would get points from those spikes to help the team.
All of the players are important to the team, if one was not on the team, the team would not b the same.
This team should not ashamed of themselves for being upsetted instead they should cherish this season and for the non-seniors work hard all offseason to win CCS because that is what this team is more than capable of.