Girls golf swings through season with earnestness and companionship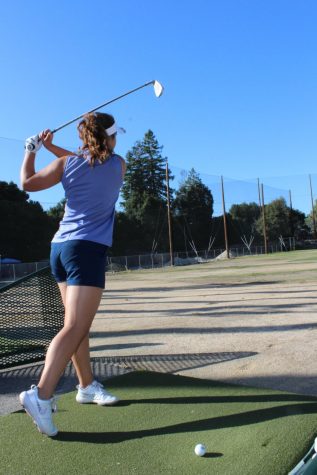 As the wind picks up near Sunken Garden golf course, the golf team swings their clubs diligently, unaffected by the breeze. They position their golf balls on the range, set their stance, swing and watch the arch of their shot. This process is repeated constantly during practices to enhance the team's consistency.
The golf team consists of a small group of girls who have become a tight-knit group through the process of playing golf together.
"I think our environment is nice … we're really friendly [with] each other and I think that is something good we [have kept] through the years," junior Morgan Wong said.
Although the team does not participate in any bonding activities outside of practice other than the banquet at the end of the season, they still remain very cordial with each other freshman Linette Chang said.
"We don't do any bonding activities," Chang said, "but we are still pretty close and we have fun with each other, even during practice."
Junior Naomi Danner said she believes the competitive nature of the sport is not the incentive; the girls play for the fun it brings, and are all very dedicated.
"Even if we lose some matches, I hope we don't feel down [throughout the] season, and [work on] getting better instead," Chang said.
Chang said she hopes that for this season, each individual golfer will score lower in their respective rounds, so that the team's overall scores will improve.
The girls practice every Wednesday at Sunken Gardens Golf Course where they practice on the range, before heading to putt on the green. On days they don't have games, the team often plays a round of golf at the Sunnyvale Golf Course.
In addition to improving their overall score, the team hopes to work on their attitude, especially when games do not go as expected.
"I [become] negative [when I lose], which is bad," Danner said. "In golf, you have to be positive to play well. I think we all have to work on our [attitudes]. "