Green Ops: clearing path towards healthier environment
As the days go by, trash piles up. Around campus, students toss plastic bottles, drop napkins and abandon paper plates. Some of these end up in bins, but more often this trash ends up littering the campus. As a result, Green Ops scours the school once a month, picking up the trash that was left behind.
"In the end," junior and president of Green Ops Anushka Sanyal said, "we collected one full bag of trash; but the more, the merrier."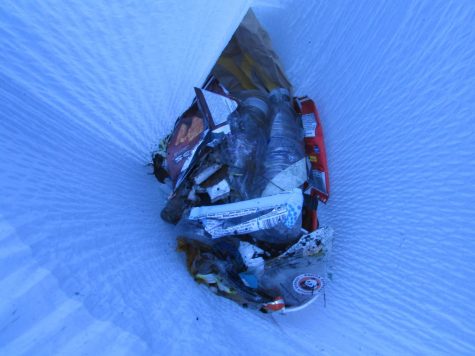 Green Ops is an environmentally focused club in which members can participate in events such as campus clean-ups to help improve the quality of the environment, Sanyal said. On campus, there is never a shortage of trash.
"[We see] lots of straw wrappers," Sanyal said, "lots of  gum stuck to places you'd really never think gum could get stuck to. [There are] a lot of different plastic materials, especially food items from the cafeteria."
Sanyal said the issue of littering on campus is connected to the issue of student apathy. Green Ops often finds litter clustered around trash cans, showing that students made some attempt to throw away their garbage but made no effort to retrieve their trash once they missed the can, Sanyal said.
But with a change in attitude, Sanyal said, the environment can be better protected. 
"The more we can do for our planet," Sanyal said, "the more happy and healthy we all will be, and I think [people] just need to realize that all their actions actually impact themselves; that's the only way that people will really be incentivized or really want to throw away their trash."
Green Ops draws in people who have made this realization, Sanyal said.
Members such as juniors Kinsey Kwan-Liu and Coline Luo were both a part of Go Green clubs in middle school and joined Green Ops along with other friends who were also interested in the environment.
Kwan-Liu said through Green Ops she was able to further pursue her interest in the environment.
"There's actually a semester topic," Kwan-Liu said, "For first semester, it is environmental politics, so I learned some stuff about that." 
Although they learn new things about the environment in Green Ops, club members must also utilize the knowledge they already possess, Luo said.
As many were members of middle school environmental clubs, they are able to bring their past experiences and apply them to Green Ops. For example, new members are in the process of revitalizing a plot of land procured by past Green Ops members for use as a garden, Luo said.
"[The garden is] pretty small and they didn't really take good care of it," Luo said. "We realized the garden was not so great so we were just trying to improve it. We're planning on doing simple plants that don't need too much maintenance like tomatoes and carrots and things like that. Once planting season starts, we're going to actually start planting."
Shared experiences, such as the ones that helped rebuild the garden, demonstrate that Green Ops is a club of friends who have been interested in the environment for a number of years, Luo said.
"I feel like this is a really niche club," Luo said, "but I do like the overall goals of it and I feel that the people who join actually do care."