Small businesses hurt by local legislation, coronavirus pandemic
Shelter-in-place order pushes local restaurant Country Gourmet to close, new minimum wage laws bring them to the edge
The shelter-in-place order put forth due to COVID-19 concerns affects the entire community. Even with federal economic aid, many local businesses will not be able to bounce back. 
Country Gourmet — a local restaurant one mile away from HHS — closed its doors after 34 years of business. The restaurant is co-owned by Julia Blom and her husband, Rene, whom she met when they worked together at the restaurant.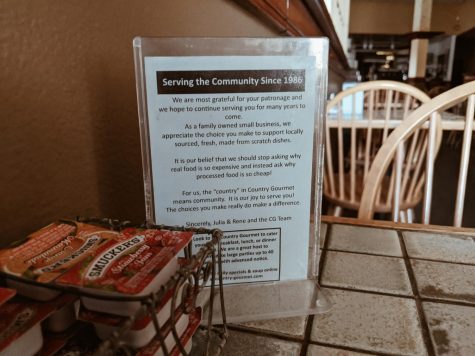 It has been an active part of the community for ages, sophomore Jimmy Snell said.
"I've been coming here for as long as I can remember," Snell said. "It has really good food."
When they were still in operation, the restaurant prioritized using the highest quality ingredients while also supporting the community by working with Full Circle Farms, an organization that helps find and purchase sustainable products  from local farmers, Blom said. 
They also contributed to the environment by following the Monterey Bay Aquarium Seafood Watch guidelines, which features a list of seafood that, when purchased, promotes a healthy ocean. 
However, Country Gourmet serviced the community with more than just food, Blom said.
"It's the relationships, the structure and the consistency. It gives [customers] a safe place," Blom said. "It lets [people] know that you're glad that you're here and that somebody still sees them and notices them."
Although the Santa Clara County shelter-in-place order pushed Country Gourmet to close, local legislation is what truly brought them to the edge. 
"We don't have big enough margins," Blom said. "[Minimum wage] puts a business in great financial peril … it actually harms the people it's supposed to be helping."
To save money, small businesses are forced to cut back on hours and hire fewer people. With decreasing customers, there are fewer tips being given, as well.
It isn't the law itself causing the problems, though, Country Gourmet's accountant and bookkeeper Sue Hunter said. 
"If Sunnyvale had waited for the other cities [and] the county to make the move, then we would have risen up as a community," Hunter said.
Because of Sunnyvale's dramatic increase in minimum wage, small businesses have been forced to raise their prices, putting them at a disadvantage. Customers ended up choosing to go to other restaurants in other neighboring cities, which have a lower minimum wage and prices, Blom said. 
One option to save small businesses is to change the legislation so more consideration is given to these businesses. Another option is to consciously choose to patronize local businesses, Blom said. 
"[It's] recognizing that you have choices and your actions matter," Blom said. "You purposefully seek out [a small business because] this is a different establishment doing different things."