'After Hours' illustrates The Weeknd's past, present
Popular artist, The Weeknd, exposes his emotions through his most recent album.
Abel Makkonen Tesfaye, more commonly known as The Weeknd, released his album "After Hours" on March 20. The album features his famous falsetto-filled melodies with strong synthesizer quality, accompanied by echoes of voices and retro sound effects — like space lasers and police sirens.
The Weeknd's music has never really appealed to me, since the few songs that I had heard were basically about sex and drugs, and I felt like they were overhyped, but this album completely changed my mind. Instead Tesfaye gets vulnerable, exposing his insecurities and painful past through a variety of genres that all convey different emotions.   
Tesfaye had a difficult past, starting with his parents, Makkonen and Samra Tesfaye — Ethiopian immigrants — splitting up when he was a toddler. He became caught up in drugs at 11, later leaving home at 17. His heartbreaks are particularly painful, as shown in his opening song, "Alone Again," a dragging and bass-heavy apology.
"I'd give it all just to hold you close/Sorry that I broke your heart," Tesfaye sang.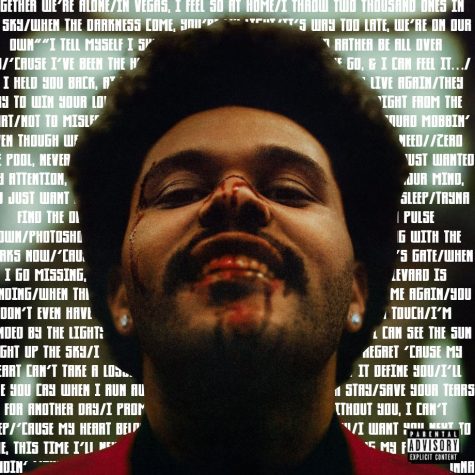 Although I initially thought this song was boring and repetitive, after listening to the song in its fullness, I could almost feel his pure regret in the way his music and unintelligible words complemented each other.
I learned that in Tesfaye's music, you have to listen beyond the words. His voice cries out for help, and pleads for company to protect him from himself. 
In his autobiographical song, "Snowchild," Tesfaye uses both his haunting musical and lyrical voice to show his vulnerability and pain.
With "snow" referring to cocaine and other explicit references, this song is clearly about sex and drugs, but he describes how they ruined his life, which surprised me.
I expected him to describe the feeling of euphoria he gets while under the influence, but instead he describes the regrets that he feels after he uses them. 
Another strong focus of this song is his fame and its influence.
"If I didn't make it, then I'd probably make my wrist bleed/Not to mislead, turn my nightmares into big dreams," Tesfaye sang. 
I was shocked by Tesfaye's raw testimony of how becoming famous changed him. I also respect how he used this song to almost lower himself and credit his success on luck and his "nightmares," the pain from heartbreaks and fighting his drug addiction. In the song, he also describes how a woman's independence was attractive, which was a fresh perspective. 
"She never need a man, she what a man need," he sang. 
Throughout the album, I could hear his raw internal conflict in fighting from falling back into his drug heavy habits. This adds depth to this album and involves you in his journey by giving you more perspective. You want to vouch for him. On one side, he admits his desire to give in, such as in "Faith."
"I've been sober for a year, now it's time for me to go back to my old ways, don't you cry for me," Tesfaye sang, "Thought I'd be a better man, but I lied to me and to you."
This verse, among others in his album, makes me feel as though I'm reading an intimate entry in his personal journal since he reveals his insecurities and guilt. In the final song in his album, "Until I bleed out," he shows the other side of his conflict: his fight against his toxic past.   
"I don't wanna touch the sky no more/ I just wanna feel the ground when I'm coming down," Tesfaye sang. 
Tesfaye's lyrics may be somber and his music dark, but there are some more uplifting melodies, such as in "Scared to live again" and "Save your tears," which reflect how he found his "big dreams" amid hard times. This message makes me sure that  others can use his music to fuel their own fight against addiction and transform their own life for the better. 
"Music was very direct therapy; it was immediate and people liked it. It definitely saved my life," Tesfaye said in an interview with Variety.
In all, I enjoyed listening to this album in all its misery. It opened my eyes to a new genre; one that I will continue to explore. It also gave me more perspective on the negative sides of drugs, love, and fame.